The Reasons Why You Should Be a Chicago Bears Fan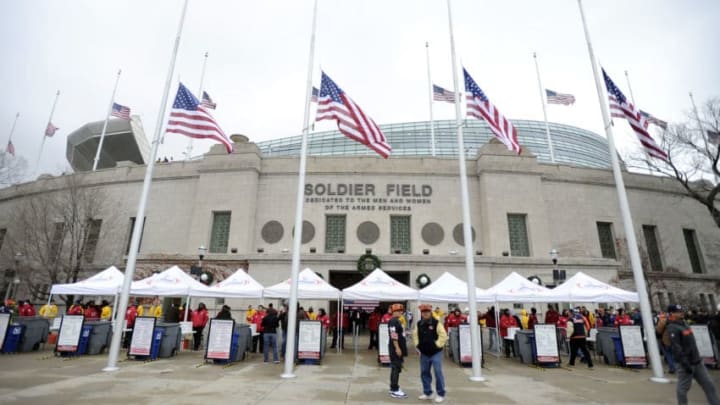 CHICAGO, IL - DECEMBER 16: American flags fly at half staff to honor the fallen victims of the Newtown, CT elementary school shooting massacre before the game between the Chicago Bears and the Green Bay Packers on December 16, 2012 at Soldier Field in Chicago, Illinois. (Photo by David Banks/Getty Images) /
Placquard at the Pro Football Hall of Fame by the Author
If you want to see the compassion and the spirit of the Chicago Bears, you need to look no further than Brian's Song.
For anyone who doesn't know the story, it's simple.
Fresh out of college, Gale Sayers and Brian Piccolo, both running backs, came to the Bears in 1965. Piccolo was a free agent and Sayers as the Bears' first-round draft pick.
Sayers ended up as the Bears' starting running back during the 1965 season while Piccolo ended up on the taxi squad.
Even though the two came to the Bears as competitors, they eventually became friends.
Their friendship would grow after Sayers suffered a season-ending knee injury during the 1968 season. Piccolo helped Sayers rehab the knee. In 1969, after a lot of hard work, both Sayers and Piccolo ended up playing in the same backfield. But as the season went on Piccolo started growing more tired and eventually had to see a doctor.
It was discovered that Piccolo had embryonal cell carcinoma. After the surgery it was found that the cancer had moved to other organs.
On June 16, 1970, Piccolo succumbed to the disease.
Sayers paid tribute to his friend just before he died. In accepting the George Halas Award which was given to the league's most courageous player. In some remarks from an account here in this ESPN Classic article, Sayers said of Piccolo:
""He has the heart of a giant and that rare form of courage that allows him to kid himself and his opponent-cancer. He has the mental attitude that makes me proud to have a friend who spells out the work courage 24 hours a day of his life. I love Brian Piccolo and I'd like all of you to love him too. Tonight, when you hit your knees, please ask God to love him"."
The story of Sayers and Piccolo has many meanings to people. To Bears fans, it is not only the perfect example of teamwork but also of crossing boundaries to help one another. It shows the compassion and spirting of an organization and its people and what it means to have "heart'.
And it shows just how strong the heart of the Bears family is.