Chicago Bears 2016 Staff Predictions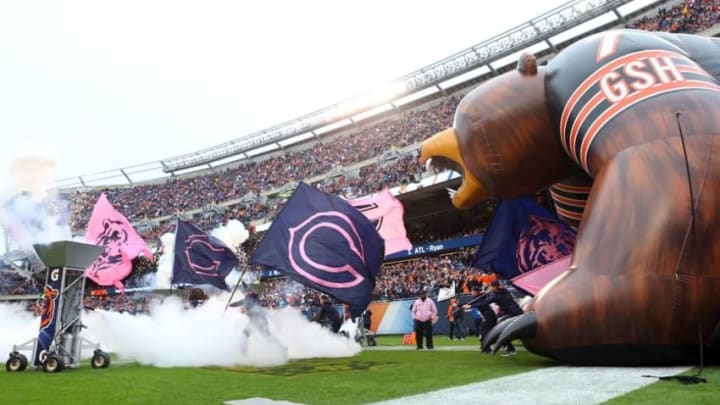 Oct 4, 2015; Chicago, IL, USA; Flags are brought out from the tunnel prior to player introductions for the game between the Chicago Bears and the Oakland Raiders at Soldier Field. Mandatory Credit: Jerry Lai-USA TODAY Sports /
Dec 20, 2015; Minneapolis, MN, USA; Chicago Bears wide receiver Alshon Jeffery (17) celebrates his touchdown in the second quarter against the Minnesota Vikings at TCF Bank Stadium. Mandatory Credit: Brad Rempel-USA TODAY Sports /
Florian: 8-8
I honestly tried to give the Bears a better record than the infamous 8-8, and despite them having one of the easiest schedules in the NFL, I couldn't.
A slightly overrated and handsomely paid (yes, overpaid) Brock Osweiler, two rookie quarterbacks, the underachiever Matt Stafford, and Andrew Luck, who's coming off a down year littered with injuries, could be a worse start to the 2016 season. Yet it is impossible to block out the Bears' chemistry issues. They've added an important piece to their offensive line with Josh Sitton, but they need more snaps as a unit.
That said, the Bears acquired too much talent in free agency and the draft to have another 6-10 losing season. Plus, the electric receiving tandem of Jeffery and White, combined with Cutler's often moody, but sometimes clutch, and always strong arm, could positively surprise Bears fans this year.  I don't believe they'll be able to contain J.J. Watt Week 1, and DeAndre Hopkins will make Osweiler occasionally look like he is worth the $72 million.
Weeks 2 to 5 are indubitably winnable, facing rookies Wentz and Prescott, and an underwhelming Colts pass rush should give the Bears O-line a little break.  The Bears better hope their starters at outside cornerback, Porter and Fuller, stay healthy because their young and unproven group of corners would certainly have their hands full against the Jags, Packers, Bucs, Giants, and Titans.
Brittle-Bradford in Week 8 and 17? Flip a coin. Do the same with the Megatron-less Lions in Week 4 and 14, while you're at it. I have the Bears winning at Soldier Field twice, respectively (despite their unacceptable record at home last year).
The Niners should be more than winnable, considering their quarterback situation.
I also think Cutler has enough offensive weapons to beat the Redskins defense Week 16.
The Bears fan in me tells me Week 15 against the Packers is a W. I remember last year's Thanksgiving vividly and the Bears have acquired a lot of talent in the offseason — there's no way they lose to the Packers twice, right? Right?!
Ryan Pace has done a great job of adding young talent to the Bears roster through the draft, and proven talent in free agency. But their lack of chemistry on the offensive line can't be ignored, and the depth issues at cornerback are too evident. It's a classic case of an 8-8 season.
What do you think?  Post your predictions in the Comments!
BEAR DOWN!!!