By the numbers: Chicago Bears vs Houston Texans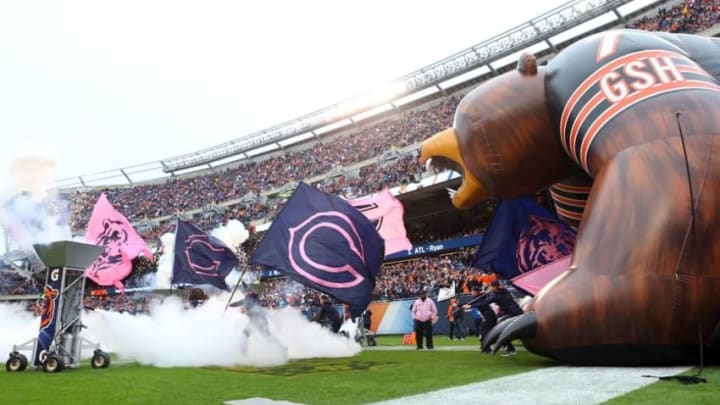 Oct 4, 2015; Chicago, IL, USA; Flags are brought out from the tunnel prior to player introductions for the game between the Chicago Bears and the Oakland Raiders at Soldier Field. Mandatory Credit: Jerry Lai-USA TODAY Sports /
The wait is finally over, opening day for the Chicago Bears is here. We are mere hours away from kicking off their 2016 season. The Bears have a long and storied history with 96 opening days in the books. Let's dive into both Chicago's history, and their opponent's to get a clearer outlook for what to expect on Sunday
More from Chicago Bears News
The Chicago Bears on opening day: 54-37-5 (.593)– The Bears have the third best opening day record in the NFL. They trail only the Broncos (.655) and the Cowboys (.673). The Bears are 4-2 on opening day since 2010.
Jay Cutler on opening Day: 6-3 (.667)– Cutler has generally been rock solid on opening day, especially as a member of the Bears. If you take out his first start in the blue and orange in 2009, Cutler has averaged over 300 yards and nearly a 2/1 touchdown to interception ratio. However, Cutler's 2009 blunder was his only season opener with the Bears that was played on the road. Cutler was 17 of 36 for 277 yards, one touchdown, and 4 picks that night.
John Fox on opening day: 7-7 (.500)– There isn't anything on John Fox that leans one way or the other. He is 2-2 in season openers on the road. Half of Fox's season openers have been determined by 8 points or less.
The Houston Texans on opening day: 8-6 (.571)- Last season's week 1 loss against the Chiefs broke a 5 game winning streak on opening day.
Chicago Bears vs Houston Texans: 0-3– This will likely be the stat brought up the most today. The Bears have never been able to get past the Texans, especially when it has mattered most. In 2008, the Bears had a playoff spot on the line against the Texans in week 17, but lost 24-31. The most recent matchup was a dreary 13-6 defeat in 2012. Cutler went 7/14 and tossed 2 picks on a sloppy Sunday night before going down with an injury.
*The Bears won their last matchup on 9/11 by a score of 30-12 against the Atlanta Falcons (2011).