Ranking the Chicago Bears roster: 80-71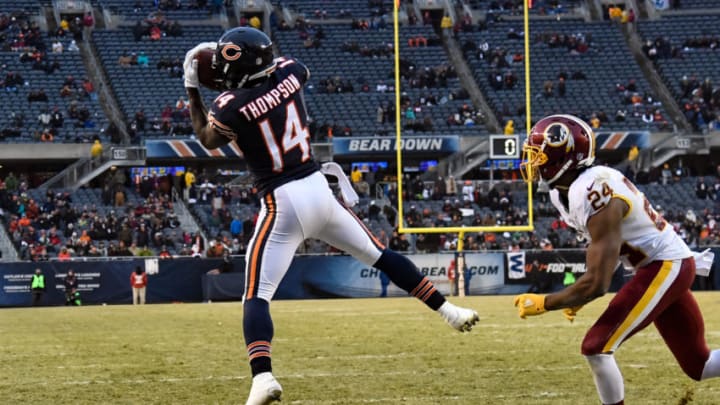 CHICAGO, IL - DECEMBER 24: Deonte Thompson /
Who are the most valuable Chicago Bears on the 90-man roster?
As we get ready for the Bears to head to training camp, it is a great time to dissect the entire 90-man roster. This series will break down and rank the Bears top 90 players in order of importance. This means value, cost, age, and how important their development in the 2017 seasons means to the Bears. This edition we will look at players 80-71.
80. Connor Barth
Barth had a shaky season last year, and the team brought in Andy Phillips who could replace him. Still, it is good to have a veteran kicker as competition for training camp.
79. Rashaad Coward
Coward is a small school defensive lineman. He is a player who can take limited snaps at nose tackle, which makes him more valuable than some of the other low-end undrafted free agents. Still, he is going to be on a slow path to the 53-man roster if he can even earn a practice squad spot.
78. Hendrick Ekpe
Ekpe is going to be in a deep linebacker group. Still, the Bears have to do their due diligence. He did put up 8.5 sacks last season at Minnesota.
77. Patrick Scales
Scales is been with the Bears for the past three years. Still, his position is not locked in and is a spot where he can be replaced.
76. Pat O'Donnell
Like Scales, O'Donnell is about at replacement level for a long snapper,
More from Bear Goggles On
pushing his value below players who will not make the team.
75. Andy Phillips
Phillips should be able to win the starting kicker job. Still, entering the season it means the Bears starting kicker will be somewhat of an unknown.
74. Roy Robertson-Harris
Robertson-Harris spent his rookie season on the injured reserved. He has an outside shot at making the roster but should have a chance to find his way onto the practice squad.
73. Isaiah Irving
Irving is the undrafted free agent pass rusher to look out for in camp. He can make some noise, but the practice squad is likely still his best case scenario.
72. Deonte Thompson
Thompson is not much as a receiver. However, he does bring return game abilities., and if he can hold onto the kick return job he can find his way onto the roster.
71. Dieugot Joseph
Joseph is an undrafted free agent with an outside shot at making the roster due to position scarcity. Any tackle who shows real life in camp should be able to make a roster.