The Reasons Why You Should Be a Chicago Bears Fan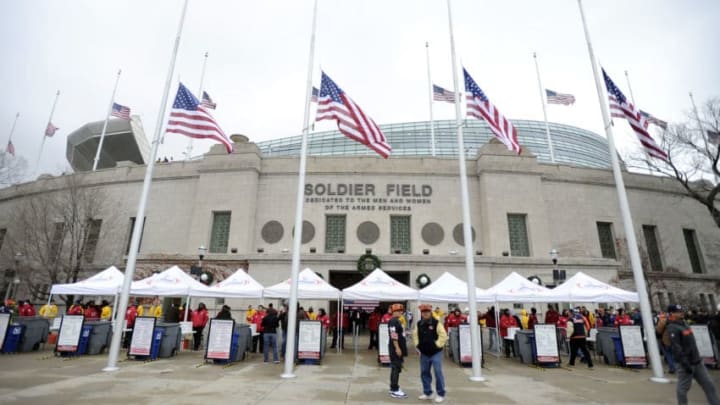 CHICAGO, IL - DECEMBER 16: American flags fly at half staff to honor the fallen victims of the Newtown, CT elementary school shooting massacre before the game between the Chicago Bears and the Green Bay Packers on December 16, 2012 at Soldier Field in Chicago, Illinois. (Photo by David Banks/Getty Images) /
A while back I read an article by NFL.com author Adam Rank about why you should root for the Chicago Bears. The article gave several reasons why a person should cheer for the Bears but didn't touch on the some of the more in-depth reasons to become a Bears fan.
Game Program at the Pro Football Hall of Fame by the Author
The article by Rank, which can be read on NFL.com referenced some of the most obvious things about being a Bears fan. It's true, things like the Bears' Super Bowl victory in 1985 and some of the more recent stars performances are good reasons to be a fan of the Bears.
But if you are a student of the team and know a little bit about their history, you will realize there is much more to the Bears than just those few things.
Granted, the things that Rank pointed out are important, but the Bears then had so much more happen in their history. That history is long, and the things that weren't mentioned will draw in fans and keep hold of them.
After spending the last 34 years as a fan of the Chicago Bears, I have seen, read and heard so much about the Bears that I have come to realize that there is so much more to them. Almost all their history is worthy of discovering as the Bears have done some great things.
Recently, I have spent some time looking at some of the lesser known but still highly significant things that the Bears have done in their history. I thought that I could share some of these things and give you great reasons to become a Bears fan or reinforce what it means to be a Bears' fan.
I will say some things about Walter Payton and the Bears' victory in Super Bowl because you can't forget about Chicago's greatest player or their greatest moment ever.
The moments in Bears' history I am about to present go in no particular order.