The Reasons Why You Should Be a Chicago Bears Fan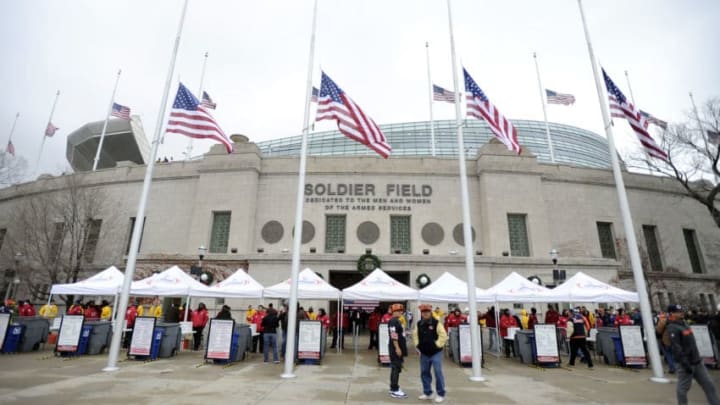 CHICAGO, IL - DECEMBER 16: American flags fly at half staff to honor the fallen victims of the Newtown, CT elementary school shooting massacre before the game between the Chicago Bears and the Green Bay Packers on December 16, 2012 at Soldier Field in Chicago, Illinois. (Photo by David Banks/Getty Images) /
Bust of Walter Payton-Pro Football Hall of Fame by the Author
You cannot deny that the Bears have some of the most famous players in NFL history. From their inception in the early 1920's through this decade, Chicago has had some of the most famous players in football history.
I have chosen five of the most popular players in Chicago Bears' history to profile here. They are in no particular order. These guys epitomize not only greatness but what it means to be a Chicago Bear.
Walter Payton-Perhaps the greatest Bear of all, Walter Payton epitomized what it means to be a Chicago Bear. He worked hard, dedicated himself to the team and became the Bears most productive player. His number 34 is seen everywhere at Bears' home games and even away games. Payton is still talked about and loved by football fans all over the world.
Harold "Red" Grange, the focus of the barnstorming tour of the 1920's, was one of Chicago's most memorable players. He was the first football player to earn a big-time contract in football ($100,000). Grange played with the Bears for five total years and not only helped propel the Bears to the forefront of the sport but helped the sport of football advance as well.
Bronco Nagurski-Who could forget someone with a name like Nagurski? A player with a name like that had to be a football star right? The Bears brought Nagurski to Chicago in 1930. He played eight total seasons total with the Bears and is a Hall of Famer.
Gayle Sayers-Sayers may have had a shorter career than many Bears' greats but his impact in the time he played cannot be denied. Sayers, a Hall of Famer, played for just seven seasons but in those seven seasons he lit up the scoreboards and re-wrote the record books. He was easily one of the greatest running backs in NFL history and therefore one of the greatest Chicago Bears.
Brian Urlacher-If you want a great example of a modern player than Urlacher is it. He is destined for the Hall of Fame after helping to lead one of the strongest defenses in Bears' history, the 2006 defense. Fans will never forget his number 54 and what he brought to the Bears. He was truly one of the most memorable Bears of all.