The Reasons Why You Should Be a Chicago Bears Fan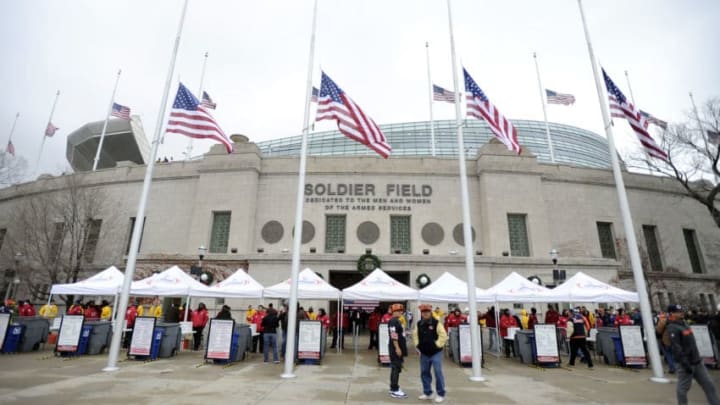 CHICAGO, IL - DECEMBER 16: American flags fly at half staff to honor the fallen victims of the Newtown, CT elementary school shooting massacre before the game between the Chicago Bears and the Green Bay Packers on December 16, 2012 at Soldier Field in Chicago, Illinois. (Photo by David Banks/Getty Images) /
Bust of Mike Ditka-Pro Football Hall of Fame by the Author
I talked a lot about Hall of Fame players in the last slide but did you know that the Chicago Bears have the most players and other football personnel in the Hall of Fame? Altogether, there are 27 former Chicago Bears players or coaches who have been inducted into the Hall of Fame since the first class was inducted in 1963.
If you count the number of Hall of Famers that played a small amount of their career in Chicago and are in the Hall, the total number would be 34.
That's a lot of Hall of Famers.
If you have ever visited the Pro Football Hall of Fame, you may have noticed that the Bears are not only the most well-represented in the number of players but also in the number of exhibits and photos.
More from Chicago Bears News
Some of the Bears items you will see include large photos and paintings of Walter Payton. There is a recording of Red Grange talking about his experiences playing with the Bears that you can listen to on a phone. That is one of the most appealing exhibits, for a Bears' fan, in the Hall.
You can see and read about Super Bowl XX in the Hall of Fame. You will get to see William "The Refrigerator" Perry's Super Bowl ring and see several photos from the game.
There are several other items including photos, helmets, and footballs that have something to do with the Chicago Bears which are placed all over Hall.
The Bears are all over the Hall of Fame, and this should appeal to every NFL fan.