The Reasons Why You Should Be a Chicago Bears Fan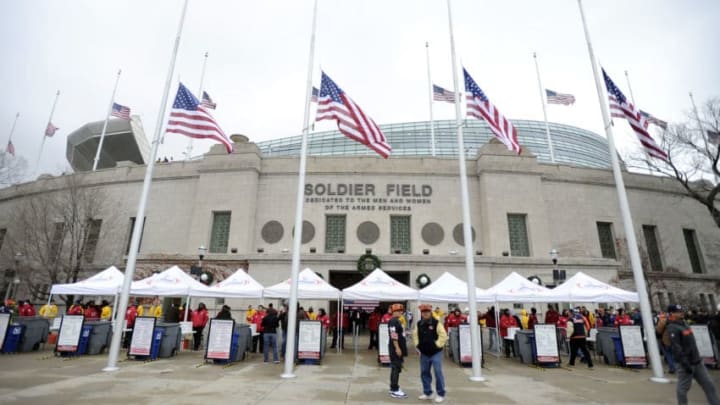 CHICAGO, IL - DECEMBER 16: American flags fly at half staff to honor the fallen victims of the Newtown, CT elementary school shooting massacre before the game between the Chicago Bears and the Green Bay Packers on December 16, 2012 at Soldier Field in Chicago, Illinois. (Photo by David Banks/Getty Images) /
Super Bowl XX Ring-Pro Football Hall of Fame by the Author
Any team that has been around for as long as Chicago has had to have had some memorable games. The Chicago Bears have had many great and memorable games throughout their 98-year history. Listed below are three games that may be considered some of the greatest games in Chicago Bears history.
If there are any that you feel that were missed, please feel free to comment.
Super Bowl XX-This must be the greatest game in Bears' history. Their only Super Bowl victory might have been a blowout but for Bears' fans, it was a lot of fun. The defense was great and the offense did so well in that game. Our beloved Chicago Bears lived up to the hype and delivered. It was sweet.
However, the only drawback is that Walter Payton didn't get a touchdown.
Chicago vs. Arizona October 2006-This game is one of the most popular in Bears' history and will be remembered for all time. Chicago was on their way to the Super Bowl that year but the Arizona Cardinals stood in the way. In fact, they almost knocked the Bears off course.
Down 20-0 at halftime, Chicago's defense and special teams helped them climb back into the game. Those two units helped give the Bears a 24-23 win over Arizona.
Afterwards, the late Dennis Green, head coach of the Cardinals, went on his famous tirade. If you haven't seen it, it's worth a look on YouTube.
The Fog Bowl-December 1988-The Fog Bowl is easily one of the most memorable games in Bear's history. The big storyline going into the game was that it put former Bears' defensive coordinator Buddy Ryan, now the coach of the Philadelphia Eagles against current Chicago head coach Mike Ditka against one another. They were both rivals from their days in Chicago so this matchup promised to be popular.
However, Mother Nature worked her way into the game and made herself to be the biggest storyline that day. In the second quarter, a thick fog settled in over Soldier Field making it impossible to see. The Bears won 20-12 but some say the game should have been stopped.
Perhaps the football gods were smiling on the Bears that day.