The Reasons Why You Should Be a Chicago Bears Fan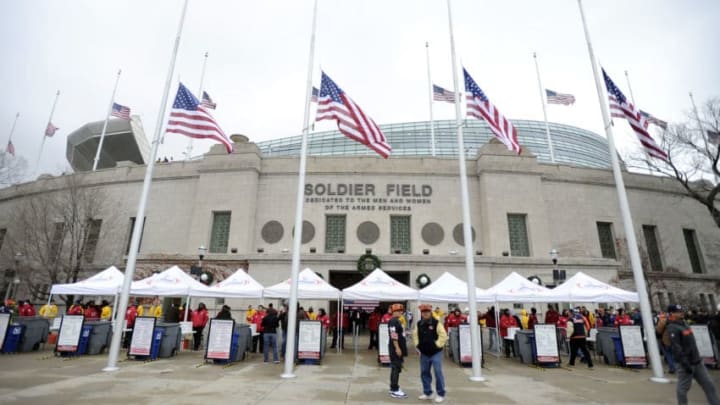 CHICAGO, IL - DECEMBER 16: American flags fly at half staff to honor the fallen victims of the Newtown, CT elementary school shooting massacre before the game between the Chicago Bears and the Green Bay Packers on December 16, 2012 at Soldier Field in Chicago, Illinois. (Photo by David Banks/Getty Images) /
Football from Super Bowl XX, Pro Football Hall of Fame by the Author
Finally, if you want to know what it's like to be a Bears' fan, then this slide is for you.
Being a fan of the Chicago Bears requires a lot of dedication. The team has been through some rough times over the course of their history especially in the last decade. We, as Bears' fans have seen losing seasons and coaches, as well as players, come and go.
Despite all of that, we still love them.
We survived the Jay Cutler years. We made it through the drama with Mark Trestman and Phil Emery. I know it was tough and it's tough now.
But better days are ahead Bears fans.
While the "here and now" moments for Bears' fans aren't great, there is a lot to be happy about.
As Bears fans, we can say that "we" had Walter Payton, the greatest running back that ever graced the football field. We can say Gale Sayers played for us and so did Dick Butkus. We are fans of the team that had Red Grange, Bronco Nagurski, Mike Singletary and so many other great players.
There is a lot for a Bears fan to proud of. Chicago's rich history and tradition alone are what make them great.
So, as a Bears fan, if you are ever in doubt about your allegiance to the Bears or if you are football fan looking for a team to root for, start with their history. If you want a team with a great history, you will be pleased with what you learn about the Bears.
You should also know that what the Bears are going through right now will eventually end. Things will get better and soon they will be Super Bowl champions again.