Matt Forte Will Retire as a Chicago Bear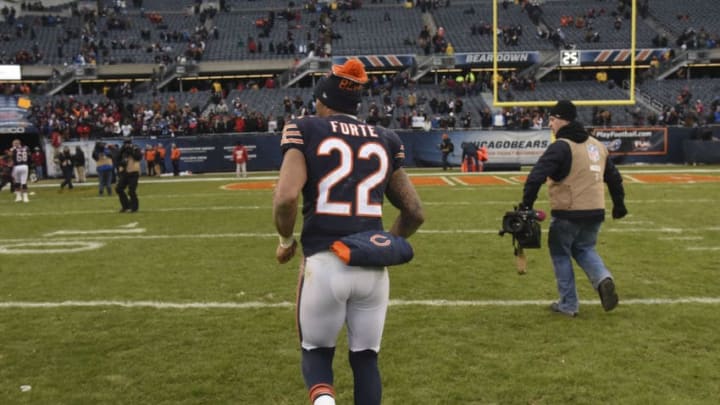 Chicago Bears (Photo b David Banks/Gett Images) /
Matt Forte is coming home.
Matt Forte was a beloved member of the Chicago Bears for several years. When his time had come and the Bears and him parted ways, even for fans that understood the move, it was a tough pill for many to swallow. Forte spent the last two seasons as a member of the New York Jets as NFL fans watched his skills erode and the injuries mount. After two so-so seasons, the all-purpose back announced last week that he had decided to hang up his cleats and call it a career.
But today, some good news came out of Chicago. Forte was doing an interview with Chuck Garfien and JJ Stankevitz on NBC Sports Chicago and made an announcement.
While these one-day contracts are more of just a window dressing, it's still a nice way to see the former Bear standout go out. Forte was a true Bear. He's one of the classiest Bears to ever don the navy and orange. He's excelled for multiple coaches, never complained and just went out there and did his job to the best of his ability.
More from Bear Goggles On
Bears fans appreciated Forte and he appreciated them. They want to remember him as a Bear, and it'll be nice that his final day in the NFL will be a member of the Chicago Bears.
What's also good to see is that the Bears understand that this is a way to keep a positive bridge connected to the franchise and their former players. The Bears haven't always had the best relationship with their past players and many of them have grown agitated with the franchise over time. Ryan Pace and the new front office have shown that they are more welcoming to former players. They've already repaired a bit of a rocky relationship with Brian Urlacher and now they are making sure that Forte has a good relationship with them as well.
This is great news from all sides. It may just be window dressing, but it's the right thing to do- for the fans, for the franchise, and most importantly, for Forte.