Chicago Bears Best Draft Pick: Receiver Anthony Miller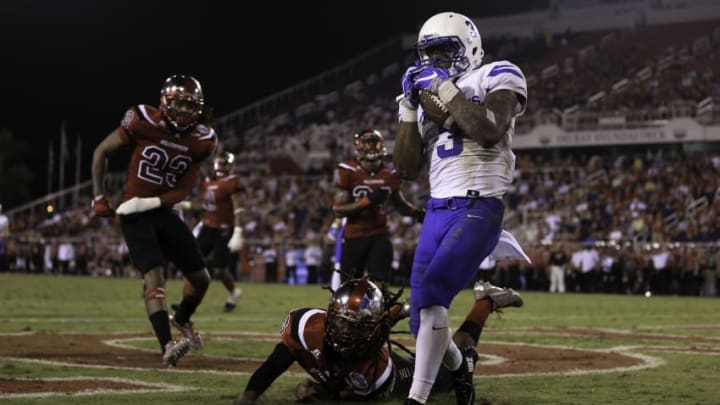 BOCA RATON, FL - DECEMBER 20: Anthony Miller /
Who was the Chicago Bears best draft pick?
When the Chicago Bears decided to let Cam Meredith go to New Orleans, I was surprised. Even though he missed all of last season with a torn ACL, he was the most reliable receiver on the team in 2016. His solid possession skills would have come in handy for Mitch Trubisky. But Ryan Pace let him go, and looked to fill his void in the draft. And It think he may have struck gold in the second round.
More from Bear Goggles On
The Bears drafted very well, and many of the players they picked up have the potential to have solid NFL careers. Roquan Smith has what it takes to be a perennial pro bowl linebacker. He might end up being the best player the Bears drafted. However, because going with the Butkus award winner at #8 was an obvious move, I hesitate to label it the best pick in the draft because filling a need with a low-risk selection is not particularly savvy or creative. I firmly believe that Ryan Pace's best pick will end up being Memphis wide receiver Anthony Miller.
Pace pulled off a trade with the Patriots to move up in the second round, and while people who trade with Bill Belichick often end up on the wrong side of the deal, it seems the Bears got their guy. At 5'11", Miller is a little undersized to be a number one option. But he doesn't let his size stop him from producing. Last season at the University of Memphis, he caught 94 passes for 1,462 yards and a whopping 18 touchdowns, completely blowing out the rest of his team in terms of numbers. His numbers the season before were almost identical. 
It's easy to say that because Miller played in the weaker AAC, his skills won't translate on the big stage. That input may be valid. But I encourage anyone who has doubts about this guy to watch his college highlights. The kid knows how to make plays. He has tremendous hands and he clearly plays with a high motor. He made the Memphis team as a walk-on and ended up becoming one of the best receivers in school history. He's grown accustomed to exceeding expectations.
The Bears had a need at the receiver position going into the draft. Ryan Pace went out and made a move for the right guy to fill that void.