Chicago Bears Roster Ranking: 70-66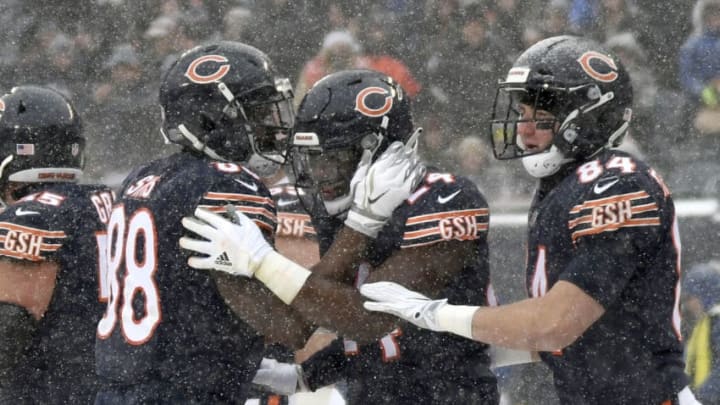 CHICAGO, IL - DECEMBER 24: (L-R) Mitch Unrein #98, Jordan Howard #24 and Ben Braunecker #84 of the Chicago Bears celebrate after Howard scored against the Cleveland Browns in the first quarter at Soldier Field on December 24, 2017 in Chicago, Illinois. (Photo by David Banks/Getty Images) /
How would rank the Chicago Bears 90-man roster heading into the regular season?
With the long wait until the start of training camp it is a good chance to assess the entire Chicago Bears roster. This series will breakdown the top 90 players on the Chicago Bears roster. It will be weighted based on the potential impact that they may have. It is not an exact science, but a good way to start discussion about some players who could rise and fall up the rankings in training camp. Today, we look at players 70-66.
PASADENA, CA – JANUARY 06: Defensive back Jonathon Mincy #6 of the Auburn Tigers reacts as they take on the Florida State Seminoles during the 2014 Vizio BCS National Championship Game at the Rose Bowl on January 6, 2014 in Pasadena, California. (Photo by Jeff Gross/Getty Images) /
70. Jonathon Mincy
Jonathon Mincy was signed this offseason from the CFL. He spent the last two seasons playing for the Montreal Alouettes and really made a name for himself. In 32 games he had 108 tackles, three interceptions and three pass defensed.
Mincy plays smart on tape and shows an ability to read the play and make breaks on the football. The play below highlights a few of the skills of Mincy. He is able to sit in zone and recognize the route concepts, leaving the outside receiver to run behind him to make a play on the football. He also shows his ability to stick his head in and make the play.
Again, Mincy is reading and reacting. Watch the break and how much ground he is able to cover to make this play on the football. Followed by the ball skills.
Mincy is only 25 years old. While it was a weaker competition, he was getting real snaps and real playing time while a player such as Doran Grant was bouncing around from practice squad to practice squad. While Grant is coming into camp, Mincy is the cornerback who has been signed since the hiring of Nagy.
Mincy only stands at 5'10" and is likely designated to the slot. However, Bryce Callahan is only signed for one more season. Mincy can compete with Cre'Veon LeBlanc this offseason and try to make the team.