Chicago Bears Post Game Takeaways: Hall of Fame Game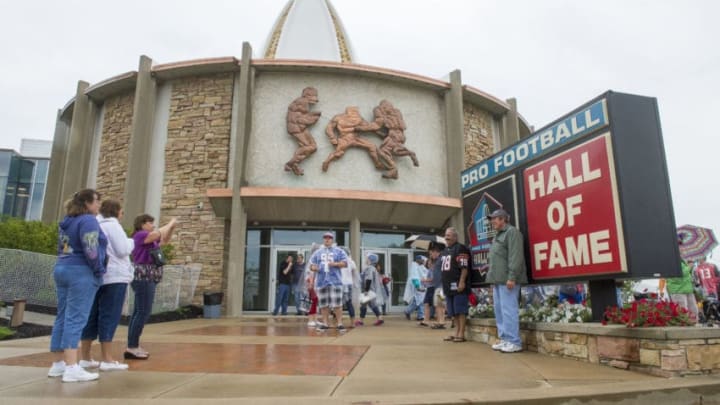 CANTON, OH - AUGUST 2: Fans take a photo outside the Hall of Fame prior to the NFL Class of 2014 Pro Football Hall of Fame Enshrinement Ceremony at Fawcett Stadium on August 2, 2014 in Canton, Ohio. (Photo by Jason Miller/Getty Images) /
What were the key takeaways of the Chicago Bears first preseason game?
Chicago Bears Football is finally back! Regardless if it was the Hall of Fame preseason game or not, it's good to see live football on our TV's again. Now, all of these evaluations need to be taken with a grain of salt because it was only one game, and it was the HOF game, which almost isn't even considered a preseason game. That said, let's talk about how the Bears looked last night!
Turnovers:
Both the Chicago Bears and the Ravens looked sloppy as expected in the first half of the game. Chase Daniel threw two interceptions, one being a miscommunication with Dion Sims, and the other deflected off a helmet. I still have faith that Daniel can be a good backup, and I'm not going to judge his performance too much based off of last night. The Bears defense forced two interceptions last night, which is an encouraging sign moving forward, Matt Nagy and Vic Fangio have stressed getting defensive takeaways this year. A more encouraging sign from last night was the defensive line getting consistent pressure on the QB.
Defensive Line:
The Chicago Bears finally had a pass rush last night! Isaiah Irving, who has been having a great camp, was disruptive last night rushing the QB. He had consistent pressure while recording a sack and TFL.
Another veteran who the Bears are counting on to take a huge step forward is Johnathan Bullard. He is lightning quick off the ball but has lacked consistency in the past. Bullard had a sack and two TFL last night, and now with another year of experience in Fangio's system under his belt, the Bears are hoping for more performances like last night moving forward.
Now onto the three rookies; Cavon Walker, Kylie Fitts, and Bilal Nichol, all of whom impressed last night. Fitts with four tackles, a sack, and TFL. Walker had three tackles and a 0.5 sack. Nichols had four tackles, a sack, and TFL. If all three can continue to produce throughout the preseason and stay healthy, the Bears are going to have a tremendous defensive line heading into Green Bay week 1.
More from Bear Goggles On
The Offense:
Javon Wims stole the show on the offensive side of the ball with seven receptions for 89 yards. Much like the rookies on the defensive side of the ball, if Wims can continue to get better and contribute in every preseason game going forward, he is going to earn himself a lot of playing time this upcoming season.
As for the offensive line, there is plenty of room for improvement. The first quarter of the game went okay for them, the ChicagoBears established somewhat of a running game with Cunningham, but after he was subbed out, there was no more running game.
All and all it's about what you would have expected the Bears to look like, a lot of room for improvement but also a lot of bright spots to focus on as well. Now onto the Bengals August 9th!