Chicago Bears Coach's Corner: Hall of Fame Game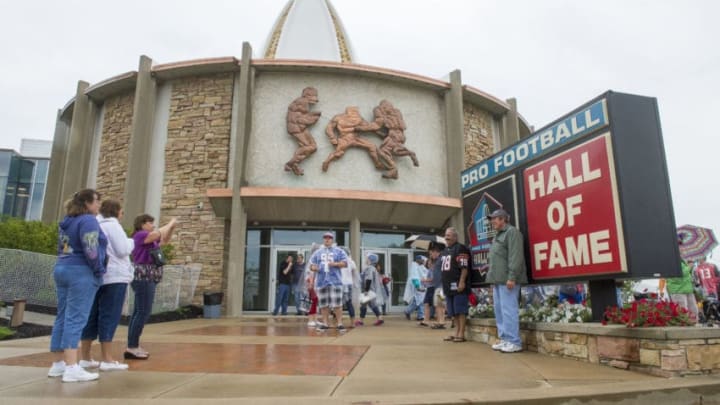 CANTON, OH - AUGUST 2: Fans take a photo outside the Hall of Fame prior to the NFL Class of 2014 Pro Football Hall of Fame Enshrinement Ceremony at Fawcett Stadium on August 2, 2014 in Canton, Ohio. (Photo by Jason Miller/Getty Images) /
Welcome to the Coach's Corner.  This week we'll look at Thursday's Hall of Fame Game.  This game didn't give us much in the way of specifics as to how the Chicago Bears will operate as a team this year, but it did give us some clues as to what we can expect.  Here are some coach's notes from Thursday's game action.
Offense:
More from Chicago Bears News
The Offense on Thursday was about as vanilla as it gets, but that doesn't mean that we didn't learn anything at all about what to expect this season.  Between all of the basic zone blocking in the running game and the quick short routes in the passing game, a few lines of synergy emerged:
Defense:
Chicago Bears /
Chicago Bears
The defense looked fast and aggressive on Thursday.  Most of the players have experience in the system and it showed.  With the talent levels being comparable, the defense did well, particularly since they were put in a bad spot more than once.
Special Teams:
Chris Tabor looked every bit the Dave Toub disciple that he is on Thursday.  While Cody Parkey has yet to be truly tested, most of the special teams units did well enough on Thursday to generate a bit of buzz around the units.
Conclusion:
For a meaningless pre-season game, this game gave Bears fans something that they have been wanting for, a first time look at a real NFL offense, even if they were only looking at the frame and not the finished car.  There still is a lot of work to do, but the foundation is there upon which to build, and I would expect the Bears to use this film to help refine their plan of attack.  Coaches will use this film to help drill in the fundamentals and base concepts of the offense which will only speed the learning process for the team.
Defensively the team has a lot to be excited about.  If Fangio continues to bring the heat he might be able to disguise the fact that the Bears are generally devoid of game changing talent across from Leonard Floyd.  The defensive backfield, in fact, may be helping with that as well.  If they continue to play well and close windows, it's also possible that the Bears get a boost from their coverage sack total.  This coupled with a Defensive Line that should be one of the better overall units in the conference means that we should expect to see an increase in opportunity plays this season (sacks, interceptions, and fumble recoveries).
As a fan, I'm cautiously optimistic, but at least I am optimistic for the first time since the first year of the John Fox hire.  I think the Bears stock is rising and now is the time to buy.
Get more Chicago Bears news, reactions, and coverage.