Did divisional rivals' tie reinvigorate Chicago Bears?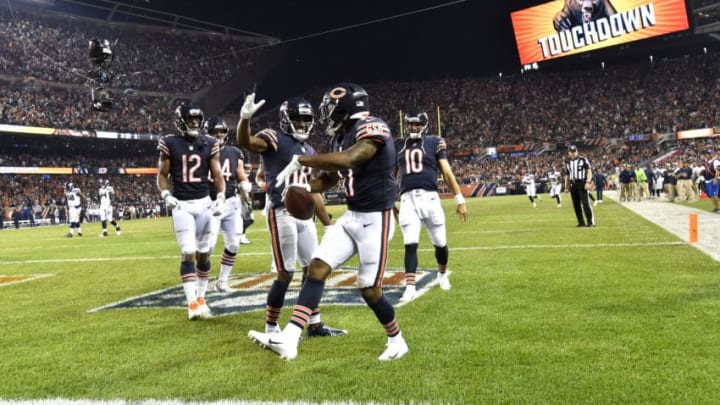 CHICAGO, IL - SEPTEMBER 17: Anthony Miller #17 of the Chicago Bears celebrates after scoring against the Seattle Seahawks in the fourth quarter at Soldier Field on September 17, 2018 in Chicago, Illinois. (Photo by Quinn Harris/Getty Images) /
The Chicago Bears won on Monday night thanks to strong defensive play but also drew motivation from a Sunday, inner-divisional thriller.
There were a lot of things that factored into the Chicago Bears' Monday night victory against the Seattle Seahawks. Porous offensive line play. A depleted Seahawks' defense. Brian Urlacher's Hall of Fame ceremony. Playing the home opener in front of an electric crowd. The storyline that no one appears to be mentioning is that while all those facets listed above contributed, the game between the Minnesota Vikings and Green Bay Packers played a huge role as well.
That soul-crushing loss the Bears endured last week had to have been aided by the fact that the team they lost to ended up tying a division rival. Why would this matter? Well, prior to Bears' opening matchup, the Green Bay Packers were considered legit contenders for Super Bowl 53. While that notion may be viewed differently because of an Aaron Rodgers injury, the Bears lost the game by one point and in the first half of that matchup, the defense looked elite.
The Packers and Vikings tieing mean the two teams are evenly matched in most regards. The Bears will be able to hang around in every matchup between all the divisional opponents and I believe Sunday's tie only reinforced that mindset.
The Seattle Seahawks struggled to move the ball throughout most of the game on Monday night. In a game following one where they allowed six sacks against the Von Miller and the Denver Broncos, they traveled to Chicago and allowed six sacks to Khalil Mack and the Bears. Russel Wilson had limited throwing options with Doug Baldwin being out, but the Bears' pass rush didn't allow much time for the Seahawks passing game to develop.
The offensive line really struggled to contain the pressure the Bears were sending. Danny Trevathan may have had his best game as a Bear as he recorded eight tackles, two sacks, and two QB hits. Aaron Lynch finally had a productive game and had his first sack of the season. And of course, Khalil Mack added his usual value by forcing his second strip sack as well as being the consistent distraction that he is off the line.
There is no doubt that the defense looked gassed late in the second half, but they still played at a high level throughout the game. It would make sense that a team needs to catch their breath after getting a pick-6- which puts your defense right back on the field- and then getting a strip sack the series after, only to have your offense possess the ball for about a minute before you're put back on the field.
Add in two starters, Roquan Smith and Khalil Mack, who both missed all of training camp and the conditioning that the offseason workouts bring.
The greatest detriment to this team's immediate success also serves as its most promising investment: quarterback Mitch Trubisky. There's a lot of debate as to how Trubisky is fairing this season. Essentially, Trubisky is starting his second rookie season. I know that doesn't seem feasible as he's in his second year, but Trubisky is learning a brand new offense following a year where he was completely hidden in the offense.
There are going to be errant throws and interceptions all season, get used to it. What's important is that Trubisky appears to improve with each game. Most were within five yards, but Trubisky threw 35 passes and completed 73.5% of those passes. He continues to show poise and it appears as though both he and Matt Nagy are on the same page with his development.
Big win for the Bears on Monday Night Football. With Sunday's draw between the Packers and Vikings, the NFC North is up for grabs and the Chicago Bears know it.