In No Ways Jealous: What Mahomes' Success means to Chicago.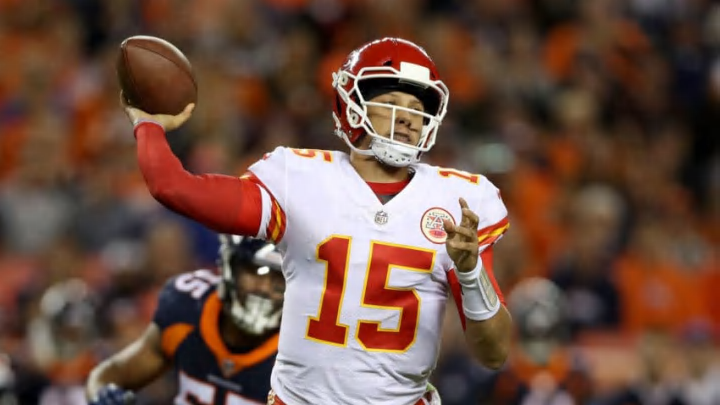 DENVER, CO - OCTOBER 01: Quarterback Patrick Mahomes #15 of the Kansas City Chiefs throws against the Denver Broncos at Broncos Stadium at Mile High on October 1, 2018 in Denver, Colorado. (Photo by Matthew Stockman/Getty Images) /
Does Patrick Mahomes' success mean that Ryan Pace drafted the wrong quarterback?
Boy oh Boy.
That Pat Mahomes kid is pretty good. Bears twitter is insufferable sometimes. The team still won. Khalil Mack is a monster. Mitch Trubisky was a bust. General manager Ryan Pace was an idiot and the Bears need new ownership.
This about sums up what it looks like to win a game with a big market franchise. Crazy, right? The twitter-sphere over the last four weeks has been undeniably unforgiving, short-sighted and biased towards immediate results.
I wrote an article a few months ago about a Crock-Pot process. That still applies to the "here and now" with these Bears. In case you missed it, I described how Pace is building this team to get hot and stay hot for a long time. I said his process is like a succulent roast beef that's been simmering all day, just waiting for you to get home and enjoy it over a bed of fluffy, white rice. Trubisky's progress is in that pot too.
But before everyone continues to try to butcher Trubisky for his performance recently (that hasn't even been bad), I think some perspective needs to be had here. Especially prior to Sunday's historic (yes, I used historic as an adjective while describing Trubisky) showing against Tampa Bay.
More from Bear Goggles On
Mahomes looks like he was created in a lab somewhere in Kansas City. In fact, he was. He's Chiefs head coach Andy Reid's latest Frankensteinian project. Mahomes has thrown for 14 touchdowns in the first quarter of the season and is executing at a level on that breaks the Richter scale. Impatient fans who subscribe to this culture of instancy are quick to compare Mahomes to Trubisky.
A huge part of this compare and contrast exercise is being overlooked though and that is what's most frustrating.
Mahomes doesn't prove that the Bears drafted the wrong guy. In fact, it proves that Pace hired the right one.
Last year, Mahomes got the luxury of getting to sit, and learn this complex offense with Alex Smith in front of him, Tyler Bray behind him (who both already had multiple years in the system). He could make all the mistakes without it costing his team anything. He could study film, learn the playbook and listen to the coaches daily without having to be as accountable as the starter.
His offensive coordinator and quarterbacks coach? Nagy, who was hired as the Bears head coach this off-season. Pace had to know of his capability and if anything, he's looking across the Illinois state line with a huge grin more instead of a puzzled frown. They also doubled down and hired former offensive coordinator and assistant head coach Brad Childress this off-season as a "consultant" to help install this offense up until training camp.
Nagy knows it's going to take time with Trubisky. He's said as much many times. Pace didn't take Trubisky because he would be the best immediately. It's the skills that he already has that are way harder to teach. The instincts, the accuracy on the move and the athleticism. A tactician like Nagy can develop the pocket presence because everything else is there. He just needs time to do it.
CHICAGO, IL – AUGUST 25: Head coach Matt Nagy of the Chicago Bears (L) talks with head coach Andy Reid of the Kansas City Chiefs before a preseason game at Soldier Field on August 25, 2018 in Chicago, Illinois. (Photo by Jonathan Daniel/Getty Images) /
Spoiler alert: I'm not going to declare what Trubisky is or isn't after game four in an offense where he is both learning a new system and unlearning bad coaching simultaneously. The kid still throws darts and he also misses some throws he should make. In due time, we'll see more of the former and less of the latter the more he gets comfortable. I'm sure of that much. I'm also sure that Nagy is going to have the same success as Reid when developing quarterbacks. He's only learned everything from Reid his entire career. The "Big Red" philosophy is all he knows. We'll see more of Sunday and less of the three weeks prior. After further review of the All-22, there is nothing that Trubisky did Sunday that he isn't capable of doing again. Maybe he won't light up scoreboards with six more touchdowns in a game, there are only a handful of players who have. However, the throws he made, the decisions, the accuracy and the mechanics all came together like seasoning on that roast beef I referred to.
Just give the kid time. Pace hired the right guy with a vision for his young quarterback the same way he drafted that quarterback in the first place. The plan always was and has been to have sustainable success for years to come. He could care less about your fantasy teams, or twitter rants. Soon and very soon, we'll see if Nagy is the genius that Reid is. As for Mahomes? He makes me more confident in Nagy, not jealous of their quarterback situation. He's a special kid, I've heard him described as having a Steph Curry-esque effect on the NFL. I won't make an NBA comparison for Trubisky yet (*coughs Russell Westbrook…oops) or Nagy for that matter. Let me see a few more games first. But with Nagy's youth, diverse offensive staff with different philosophies and open-minded attitude, he may even be better than his predecessor.
Pace is up for executive of the year so far for his efficient draft, free-agency haul and theft of Mack who is indubitably the Defensive Player of the Year so far. It's Nagy's turn prove that he was right in more ways than one.