Chicago Bears Week Eight Cornerback Report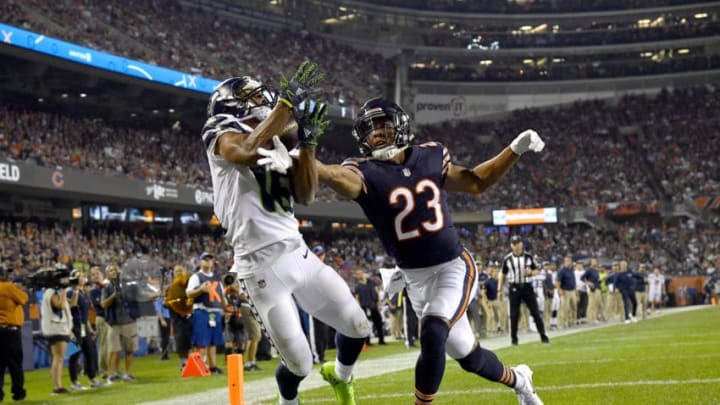 CHICAGO, IL - SEPTEMBER 17: Tyler Lockett #16 of the Seattle Seahawks receives a pass against Kyle Fuller #23 of the Chicago Bears for a touchdown in the fourth quarter at Soldier Field on September 17, 2018 in Chicago, Illinois. (Photo by Quinn Harris/Getty Images) /
How did the Chicago Bear cornerbacks play against the New York Jets?
When you face a quarterback who completes 14 passes for 153 yards in the entire game, you are going to have a good chance to win the game and boost your defensive stats. However, Deontay Burnett did have four receptions for 61 yards. How did that happen and who boosted and saw struggles because of that?
As always, we do our weekly cornerback report with updated stats throughout the season.
Season to date: 25-43, 393, Four Touchdowns, Three Interceptions 9.1 yards per target
Kyle Fuller mistimed his jump in a chance to land an interception, and it led to a Burnett reception deep down the field. Otherwise, he was hardly targeted. One of the incompletions was a throwaway where he was the closest defender.
Season to date: 14-27, 232 One Touchdown, One interception, 8.6 yards per target
Amukamara gave up a catch to Jermaine Kearse, Charone Peake, and Deontay Burnett. Compared to his typical performances this actually could be considered a down game for Amukamara, although no real damage was done.
More from Bear Goggles On
Season to date: 24-34, 247 yards, Two Interception, 7.3 yards per target
Bryce Callahan was electric in this game. Early on, he broke up a pass over the middle with a great recovery burst. He was shut down in the passing game, and the Jets continued to attack him. This helped play a factor in the poor passing day for Sam Darnold and the Jets.
Sherrick McManis Season to date: 4-6, 41 yards, One TD One InterceptionKevin Toliver Season to date: 9-13, 125 yards, 9.6 yards per target
Safety
Season to date: 8-16, 120 yards, Two Touchdown, One Interception, 7.5 yards per target
Eddie Jackson gave up a reception and also had a penalty. However, his overall day was good in coverage. As a deep field safety, he was able to step in and shorten the field.
Season to date: 11-17 115 yards, 6.8 yards per target
Linebackers
Season to Date: Season to date: 22-33, 158 yards, Two Touchdown, 4.8 yards per target
Roquan Smith continues to have the best yards per target allowed total. His closing speed makes this no surprise.
Season to Date: 16-21, 226 yard, Two Touchdown, One Interception 10.8 yards per target
Trevathan gave up a touchdown to Chris Herndon. Herndon ran a deep out towards the end zone, and sideline and Darnold squeezed the ball in between the two as Dann Trevathan had inside leverage. It was a strong pass from Darnold.