Chicago Bears Keep or Pass: Josh Bellamy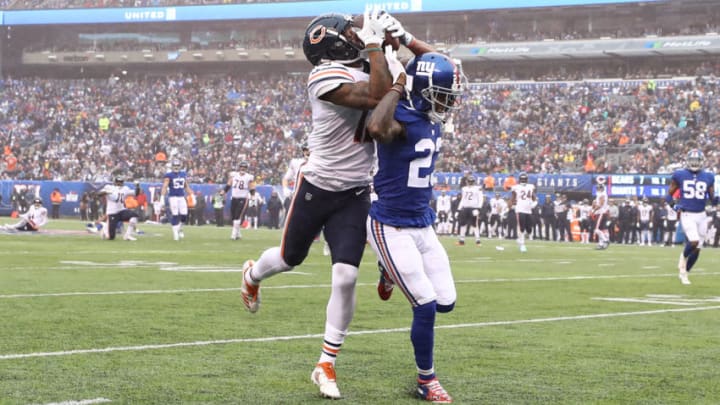 EAST RUTHERFORD, NEW JERSEY - DECEMBER 02: Allen Robinson #12 of the Chicago Bears makes a catch during the second quarter while defended by B.W. Webb #23 of the New York Giants at MetLife Stadium on December 02, 2018 in East Rutherford, New Jersey. (Photo by Al Bello/Getty Images) /
Should the Chicago Bears keep Josh Bellamy or let him walk away via free agency
After digging into Adrian Amos and Bryce Callahan, the Chicago Bears do not have many big decisions to make in free agency. One of the tougher ones will be a depth wide receiver in Josh Bellamy. Bellamy has outlasted multiple coaches and GMs, did he win over Matt Nagy?
Keep
Josh Bellamy has lasted five seasons with the Chicago Bears and for the most part, he has held down the same role. That is because he is the perfect end of the roster player at wide receiver. To start, he provides on special teams. Each of the last five years has seen Bellamy produce on all four phases of special teams.
When Bellamy plays on offense he is a high effort player. He blocks well and has the speed to get down the football field, albeit with questionable hands. Still, his blocking, special teams, and deep ball ability were enough for him to be active for the Chicago Bears playoff game when Kevin White, another free agent, and rookie Javon Wims were sat down. That shows the trust the staff has in him.
Lastly, Bellamy comes off as a locker room player. Matt Nagy has laughed about his presence in press conferences and teammates always are laughing with Bellamy around. There is not much upside to what he brings. However, there is little downside with keeping Bellamy around. He just does his job.
Pass
While Bellamy takes pride in his special teams, this was a down year in that regard. By year Bellamy has been graded at 63, 67, 71, and 62 on special teams by Pro Football Focus. All marks are above average. However, this year he saw an average grade of 50. That is mainly due to 2 penalties and four missed tackles. Before this year he had three career penalties and eight missed tackles.
On top of that, the team tried to move on from him last year. They brought in Javon Wims and signed Bennie Fowler. They also gave Kevin White endless chances. They know the upside is limited. The hope would be that Wims can step up. On top of that, they could find a younger receiver with special teams value who may be cheaper than Bellamy.
Possible contract
Josh Bellamy made $1.9 million last season. However, he is coming off of a down year on special teams and is entering his age 30 season. Last year Dwayne Harris signed a one-year, $1.1 million deal with the Oakland Raiders. Harris is an elite special teamer who posted grades of 77. 75, and 73 before a 56 in 2018.
So last offseason Harris was 30 and was coming off of a poor special teams seasons and signed for less than Bellamy in 2018. This is what Bellamy should expect. Harris was able to bounce back last season with a 76 grade on special teams. Bellamy might do a bit more on offense than Harris, but his special teams' value should not demand more than $1.1 million on the open market.