UDFA Emanuel Hall has "second round talent"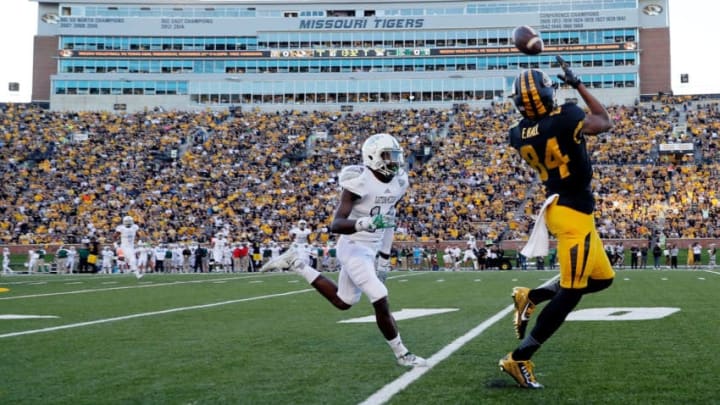 COLUMBIA, MO - SEPTEMBER 10: Wide receiver Emanuel Hall #84 of the Missouri Tigers catches a pass and beats defensive back Ross Williams #14 of the Eastern Michigan Eagles in for a touchdown during the first half of the game against the Eastern Michigan Eagles at Faurot Field/Memorial Stadium on September 10, 2016 in Columbia, Missouri. (Photo by Jamie Squire/Getty Images) /
The Chicago Bears might have found the steal of UDFAs with Emanuel Hall
When Emanuel Hall went undrafted, it was a surprise to many. When he signed with the Chicago Bears, it was even more surprising. A team with that much depth at wide receiver was able to haul in a top UDFA talent at wide receiver?
Something had to be up.
A lot of people had varying reasons for why he could have dropped. His medicals were in question and he missed time last season, but passed his tests at the combine, and even tested as one of the best athletes.
He is a one-trick pony, but that trick is going deep, as he averaged over 20 yards per catch. Players get drafted with a lot less traits than being a deep speed stud.
Lane Zielein, who does draft profiles for NFL.com said that he was anticipating a fall in the draft due to his attitude.
It would be nice if he elaborated more, but it does not sound like this is due to a serious event that had taken place. Another knock in his game was considered contested catches, maybe that attitude brushes off onto the field.
Still, the second round talent and traits make a lot of sense. Hall profiles very similarly to D.J. Chark, a one-trick pony from LSU who struggled with contested catches and had a limited route tree. Chark is a perfect analytical and on-field comparison. He only had one year of SEC production, had a good attitude and went in the second round.
The Chicago Bears brought Emanuel Hall in for a predraft meeting. They must know of what type of attitude he has. They knew well enough to take a chance on Riley Riley in round four over him. Still, they also knew well enough to take a chance on him and bring him into training camp.