Rookie Year expectations: David Montgomery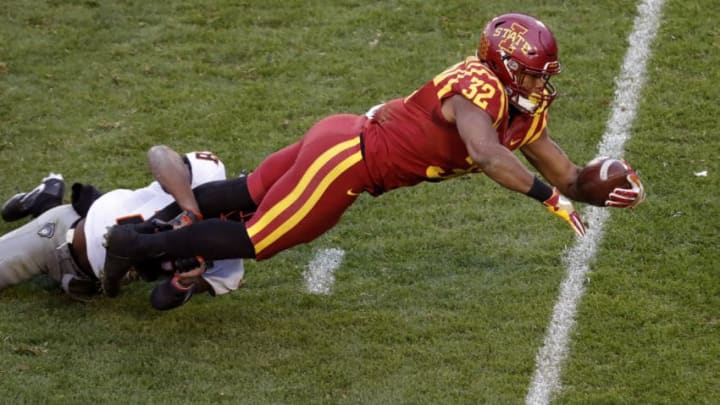 AMES, IA - NOVEMBER 11: Running back David Montgomery #32 of the Iowa State Cyclones dives into the end zone for a touchdown as cornerback Rodarius Williams #8 of the Oklahoma State Cowboys blocks in the second half of play at Jack Trice Stadium on November 11, 2017 in Ames, Iowa. The Oklahoma State Cowboys won 49-42 over the Iowa State Cyclones. (Photo by David Purdy/Getty Images) /
What would be a reasonable workload for David Montgomery's rookie season look like?
When the Chicago Bears traded up for David Montgomery, it ensured his status as a starter for the Chicago Bears. He is one of the more pro-ready prospects in the class. The knock on him is that what you see is what you get, but there is little doubting that he can be plug and play in the NFL.
The fact is that the Chicago Bears need him to be as well. That is what made the trade up so important. Last season Jordan Howard carried the ball 250 times. Even if Tarik Cohen got a boost in carries, there is plenty to go around.
Mike Davis was signed, and he was expected to take a big portion of the carries left over from Howard. Still, his career high in rushing attempts was 120 and that came last season. Davis has not had 200 carries since 2013 at South Carolina.
Montgomery is coming from college but had back to back 250 carry seasons. He has handled a heavy workload.
How many carries will David Montgomery get?
David Montgomery is a Week One starter. While Tarik Cohen may finish with more catches and overall touches, Montgomery is going to lead his team in carries this year. The question becomes how many?
With 250 carries to go around from last year, even if Mike Davis matched his career high and Cohen saw a whopping 30 extra carries, we will at minimum 100 carries from Montgomery. Still, that just comes down to over 6 carries per game. Montgomery is going to see the ball more than that, right?
In fact, his over/under number should be closer to 200. Is Cohen get a bit, sure. Is Davis? definitely. However, these Montgomery was brought in because neither of them can consistently bang between the tackles like him. Davis could match his career high in carries, but now the Bears are just hoping for a solid compliment who can give third-down work and goal-line situations.
Even 200 carries this season is 12-13 carrier per game, That is where we should set the line for Montgomery.
More from Bear Goggles On
Will David Montgomery go over 1,000 yards?
If David Montgomery comes away with 200 carries, he has to average five yards per carry to hit 1,000. Despite averaging 3.7 yards per carry last season, Howard averages 4.3 for his career. Considering Howard was shipped out because his skill set did not fill their needs, and Montgomery was traded up for because he did fit their needs, Montgomery should be expected to average over four yards per attempt, but it may be tough to say he will average 5.
Montgomery was also known as a player who made his offensive line better by turning losses into short gains. That is how he ground out 4.7 yards per carry at Iowa State. Even if the Chicago Bears offensive line is not where it should be, the ability to create for Montgomery should give him a floor of 800 yards and the upside of 1,000 or more depending on touches.
Conclusion
The Chicago Bears expressed an immediate need for Montgomery as shown by their stance to trade up for him. Montgomery is pro-ready, he has played with a poor offensive line, and his biggest strengths come from handling a heavy workload.
All signs point to Montgomery leading the team in rushing attempts and yards. He should go over 200 attempts and 800 yards if things break right. Now, we will see if he is able to meet or fail his expectation.