Chicago Bears kicker: where do they go from here?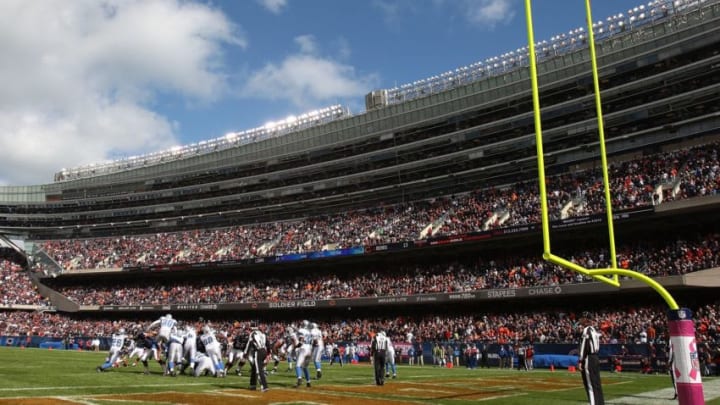 CHICAGO - OCTOBER 04: A general view of a field goal by the Chicago Bears against the Detroit Lions on October 4, 2009 at Soldier Field in Chicago, Illinois. The Bears defeated the Lions 48-24. (Photo by Jonathan Daniel/Getty Images) /
The Chicago Bears recently waived Elliott Fry, leaving Eddy Pineiro as the only kicker on the Bears.
The first few weeks of the preseason were spent trying to find the next Bears kicker, whether it be through practice or games this competition was occurring all the time.
The biggest talking point for the entire offseason was who will be the next Bears kicker? We all saw last season what failing to have a good kicker can do to a team. Yet there are reasons for optimism for the Bears this year, and some reason for doubt. Let's dive into some of the questions Bears fans have after the release of Elliott Fry.
Does Pineiro deserve the job?
Neither kicker earned the job yet. Let's make that clear. Pineiro and Fry had moments when they were a potential starting kicker, and they also had moments where they missed some big kicks. I think when Ryan Pace and Matt Nagy look at Pineiro they see more potential than when they look at Elliott Fry. Just watch Pineiro's highlights from college.
Obviously both of these kickers are young, Elliott Fry may find himself playing in the NFL soon, but just not in a Bears uniform.
CHICAGO, IL- JANUARY 19:Photo by David Banks/Getty Images) /
Is there help coming elsewhere?
Unfortunately, Chicago really dug themselves into a corner here. They overhyped this kicker competition this entire offseason to the point where no one is talking about Kyle Long's practice issues and real problems on the Bears.
The Bears put all their eggs into one basket. They have given Pineiro and Fry all the time in the world, and didn't bring anyone else in after realizing neither outperformed the other. #Bears could still bring in another kicker, but they have faith in Pineiro. Said Nagy: "For right now we feel good where he's at."
Obviously, the Bears might be looking elsewhere for a kicker but reminder the season starts in 3 weeks they are on the clock.
CHICAGO, IL – DECEMBER 09: Head coach Matt Nagy of the Chicago Bears stands on the sidelines in the second quarter against the Los Angeles Rams at Soldier Field on December 9, 2018 in Chicago, Illinois. (Photo by Jonathan Daniel/Getty Images) /
Where do we go from here?
We need to stop stressing the importance of the kicking competition. Eddy Pineiro is now the only kickers the Bears have. Let's put some faith in him. Instead of saying he has two games, Nagy and company should just come out and say he is our kicker.
Eddy Pineiro is going to feel the pressure going into this season, rightfully so. But at the same time, you don't want your kicker to feel the pressure coming from only your own team. What I mean is, Eddy Pineiro needs to feel apart of the Bears, not like every kick he makes will be scrutinized game in and game out.
The Bears need to move forward and focus on other things, like trying to fine-tune their system to end every drive in a touchdown instead of a field goal.