Chicago Bears: Do not under estimate sixth and seventh-round draft picks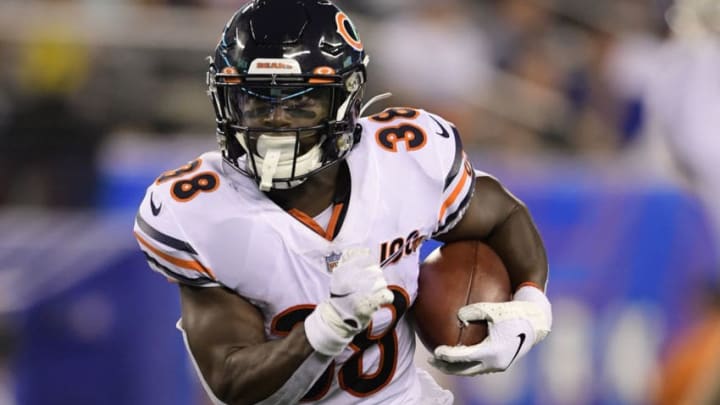 Chicago Bears (Photo by Steven Ryan/Getty Images) /
Kerrith Whyte could have been a steal for the Chicago Bears, now he might be for the Steelers.
The Chicago Bears are armed with two sixths and two seventh-round draft picks. Some may wonder why such low-end draft picks are still valuable. The NFL draft started with nine draft rounds and worked its way to 20 and eventually back down to seven.
The reason why that is important to know, is the Chicago Bears lead the NFL with 26 Hall of Fame inducted players. Now, most of them are first-round selected players, but there are 17 undrafted free agents in the hall of fame. Four have made it since the draft became seven rounds.  Let us take a look at what sixth and seventh-round draft picks can become.
Names such as Warren Moon, Tony Romo, Antonio Gates, Arian Foster, Wes Welker, Jason Peters, Jeff Saturday, Priest Holmes, Chris Harris Jr, and more were all undrafted. These players mostly get to pick where they want to go. Teams that ended up with these gems got to weep the benefits.
A lot of times, teams will use those late Day 3 selections to grab high upside players that tend to be very athletic—hoping that they may find a hidden gem. But some teams try and work the undrafted market of players that just had stable careers but may have lower ceilings due to various reasons.
Having multiple late Day 3 picks, teams tend to take chances on both types of player profiles. In a different world, Jim Finks and George Blanda were 12th-round draft selections. Also, Danny Fortmann was a ninth-round selection. You just never know when you might find the next Tom Brady or Antonio Brown. The selection of players with that exact pick is not the only benefit to having multiple late Day 3 draft picks.
According to Robert Knight and his Dallas Cowboys draft trade value chart, a sixth-round selection can range from a 27 point value to a 14. The seventh-round value from 14 points to two. For comparison sake, the Chicago Bears could move from pick 43 to pick 42 with just a seventh-round pick. Imagine what they could do early on Day 3?