Chicago Bears: Ryan Pace must avoid the temptation to draft this quarterback Chicago Bears (Photo by Tom Pennington/Getty Images) /
(Photo by Chris Graythen/Getty Images) /
Weaknesses
His regression from his sophomore to junior year is a major red flag for me. Another year on campus could have benefited his potential NFL career, despite him being projected to go in the first round. Love didn't play well against ranked teams last year, completing less than 60 percent of his passes against Boise State and LSU.
He had a combined 1-to-4 touchdown to interception ratio in such games. As a whole, he completed just 57.0 percent of his passes in the fourth quarter, and he's not going to be a guy that's going to win a game for you.
In the clip below, he does a nice job of going through the progressions after the snap, but he locks on his man running across the middle. The problem is his receiver was blanketed, yet Love forced the throw. He had a small window when his receiver reached the 45-yard line, but beyond that, this throw should have never been made.
While the arm strength is there, he lacks the precision to throw it into tight windows and doesn't always lead his receivers. His ability to read defenses needs some work, and his throwing mechanics break down when he rushes passes.
I'm not trying to trash the guy, but I haven't seen a quarterback who should be selected on day two be viewed as a potential top-15 pick.
In the clip below, that ball needs to be thrown to the back corner of the endzone. Against single press coverage like this, you have to give your receiver a chance to go up and get the ball. Instead, it's massively underthrown and picked off.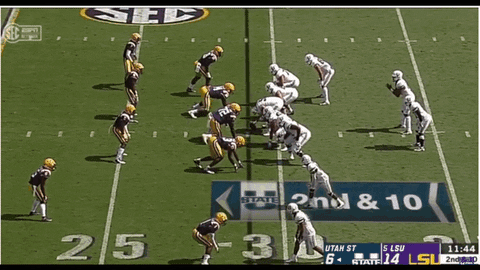 I understand the temptation will be there for Pace to fix the quarterback situation with an athletic quarterback, but Love is not the solution. Especially when he's going to cost more draft capital in a year when the Chicago Bears need to make every selection matter.
And for what it's worth, PlayerProfiler sees his pro-comp as being Dan Orlovsky, and I can't picture the guy without seeing him run out of the back of the endzone when he was with the Lions.