Chicago Bears could make a Super Bowl run with this starting lineup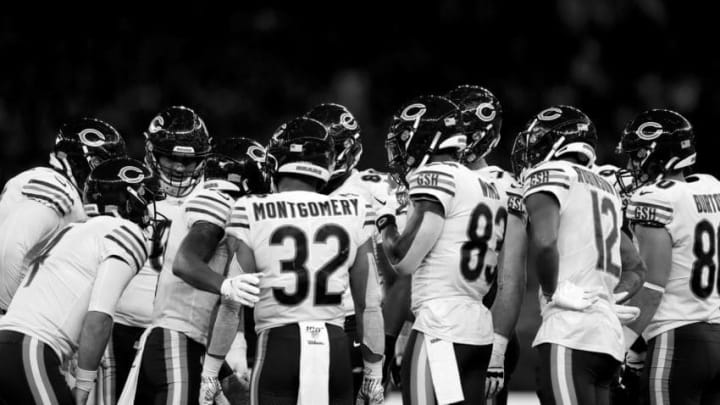 Chicago Bears (Photo by Naomi Baker/Getty Images) /
Chicago Bears (Photo by Nuccio DiNuzzo/Getty Images) /
As we continue looking back at a poor 2019 season, the Chicago Bears have made moves to position themselves for another Super Bowl run.
Now that I have your attention, let me preface this with the statement that making the playoffs is the first part of any playoff run. If a team can make the playoffs, that is essentially a Super Bowl run. Even if the team goes one and done as the Chicago Bears did in 2018, that team was a Super Bowl caliber team. Just look at the Tennessee Titans last year. The team limped into the playoffs but found a way to beat both the Patriots and Ravens to advance to the AFC Championship.
On paper, the Ravens were arguably the best regular-season team last year. That team did not win the Super Bowl. Instead, the Chiefs, who were still a top team in the NFL took home that prize. Remember the Baltimore Ravens in 2012? The Ravens went 10-6 on the year but struggled on the road with a 4-4 win/loss split. Not many gave them a chance to win the Super Bowl despite winning the AFC North. That did not stop them from taking home the Lombardi Trophy that year.
We have seen enough precedent to know that the top team in the NFL does not always win the Super Bowl each year and that a team that gets hot at the right moment could easily take home to top prize. This is important to remember as we take a look at who the Chicago Bears should count on this season to lead the way to glory.
This is not a 53-man roster prediction. This is not even a starting depth-chart prediction. This is who I believe (insert the thank goodness you are not the coach or general manager comments below) would make the most successful starting lineup for the Chicago Bears in 2020.