Chicago Bears: Five keys to a playoff run in 2020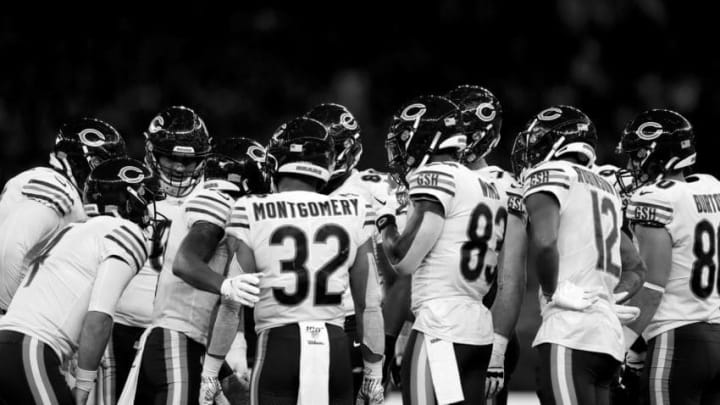 Chicago Bears (Photo by Naomi Baker/Getty Images) /
Chicago Bears (Photo by Dylan Buell/Getty Images) /
One of the quarterbacks needs to separate himself in the competition
If the Chicago Bears are going to make any noise this season, either Mitchell Trubisky or Nick Foles has to prove worthy enough to start by pulling away in the quarterback competition. If the two remain close, it means Trubisky did not take a step forward. It means Foles did not thrive in an offense everyone expects him to succeed in.
The saying is that when you have two quarterbacks, you have none. That's not always true. I would argue the Green Bay Packers still have a quarterback in Aaron Rodgers despite others believing in Jordan Love. The same comparison could be made in New Orleans with Drew Brees and Jameis Winston. The Chicago Bears situation is nothing like the Packers or Saints though.
Nick Foles is a proven veteran. However, he has been extremely inconsistent throughout his career despite owning a Super Bowl MVP award and helping lead the Eagles to a Super Bowl victory in 2017. His best overall season took place while playing under the tutelage of Bill Lazor who was his quarterbacks coach. This magical season took place in 2013. Foles was still a backup — this time to Mike Vick. Foles started 10 games and threw 27 touchdowns to only two interceptions.
Mitchell Trubisky is an unproven youngster. Although this is his fourth season, he too has been inconsistent. This is Trubisky's last shot at proving he deserves to be a starter in the NFL. Should he not separate himself from Foles over the next few weeks, he will not find himself bagging groceries, but he will not be a starter in 2021.
It seems Foles is slightly pulling away after the first day of training camp, but there is plenty of time left. Will Foles continue to pull away or will Trubisky find a way to take the competition over? The Chicago Bears better hope one of these two proves himself or we will see another repeat of 2019 on offense in 2020.