Film Review: Chicago Bears rookie Larry Borom preseason debut LAKE FOREST, ILLINOIS - JULY 28: Larry Borom #75 of the Chicago Bears works out during the Chicago Bears training camp at Halas Hall on July 28, 2021 in Lake Forest, Illinois. (Photo by Nuccio DiNuzzo/Getty Images) /
The Chicago Bears were able to get their first look at Larry Borom in the preseason. After spending a day three pick on Borom, expectations are not sky-high, but the team feels as though they have some depth and a player to develop on the line.
Before dissecting the play of Borom in his NFL debut it is worth remembering who Borom is and what he was expected to be in the NFL. Below are scouting reports from Lance Zierlein, and Brandon Thorn, who are two of the top NFL minds when it comes to OL evaluation.
"Borom's mobility will be judged relative to his position ask by NFL teams. While some teams might be tempted to try him at tackle first, he doesn't appear to have functional lateral movement for pass sets or as a run blocker. If a team can fix his hand placement and get him working inside opponents' frames, we could see a jump in his block sustain and push as a downhill, phone-booth blocker in a power scheme. He creates some movement as a down blocker and teams are usually willing to spend time developing bigger guards with experience at tackle on the collegiate level."
Larry Borom Run Blocking
It is interesting that they both noted that Borom had a lack of ability to move laterally and into the second level. This summer it was discussed that Borom lost a lot of weight between the season and training camp as he slimmed down in hopes of moving better.
This makes the play below all the more important. Do not worry about the result, but watch Borom get out into the open field and then take that into the second level. he picks up his man for a nice downfield block.
It is not quite as clean as the play below, as this is a staple for Chicago when they had Charles Leno. Leno was not great with power, but he could move and pull in a zone blocking scheme. Borom showing progress here is huge because this will be asked of him.
Again the play below we see him get into the second level and pick his man up. He gets into the second level with clean feet and is able to cover his man. Again, the result does not matter because Borom would have helped increase the length of this run.
Zierlein noted his best trait was as a down blocker, which showed in the play below. The scheme has the defender moving his way, but Borom is able to flush him out of the play and create the cut back lane for Khalil Herbert.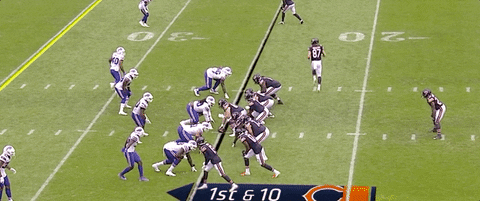 Overall, it is fair to say that Larry Borom impressed in his run blocking. He showed that the weight loss could lead to a more fluid mover.
Larry Borom pass protection review
One of the biggest things both scouts pointed out is his hand placement, and being able to win by getting his hands inside of defenders. We saw some ups and downs in these areas as he grew as a pass blocker.
Below is a great rep. Efe Obada had a step, but Borom quickly sprung out and cleared him to the outside, pushing him out of the play. Thorn also noted that he has that quick step in pass pro.
Below is a highlights of some of the issues that came with his hands. You can see that Obada faces him again here and is able to get by him clean with a quick swipe. The right tackle Lachavious Simmons got beat faster, but that does not excuse that Borom did struggle getting his hands in the right place.
Below we see a win with his hands. You can see where the defenders hands end up. He is outside of his shoulders. Borom needs to keep the defenders hands outside of him and not get them locked into his chest. That is where he loses power.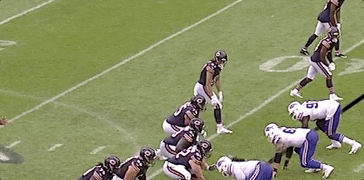 Below is a prime example of what happens when a defender gets their hands inside of him. Watch the left arm of 93, and the right arm of Borom. 93 gets inside of him, and Borom loses all of his power. In the first play you can see that Borom pushes the pocker wide. Below, the defender closes the pocket on him.
The next play sees Borom lose even more clean. Obada is able to get both hands inside of the chest of Broom and drive him backwards. Extending his right arm pushes Borom into Fields and causes him to flee the pocket. Fields has room to run and picks up a first down, but this is not great for Borom.
Again in the play below we see that because Borom is getting pushed back into Fields, Fields has to leave the pocket to the side of Borom. It is good that Fields is mobile because he helped Borom from looking much worse.
We will close on a high note. This may have been the best rep for Borom because it came in the fourth quarter after some ups and downs. It also came showing some growth. Earlier that swipe and rip beat him clean, and the defender went back to it. This time Borom was able to spring out of his stance, gets his hands inside of the defender, and drive him outside to keep that side of the pocket clean.
A lot of the questions in his scouting report, as well as his pros showed in this play altogether.
Overall, it is hard to grade his performance, especially usually the TV tape. It is fair to say that he is not quite ready to compete with Jason Peters for a starting spot after just 38 snaps, though.
This is a great game to demonstrate the baseline skills. He will likely play a lot next week and we will hope to see improvement, as that may be the last we see of Borom for a bit.