Chicago Bears: 5 areas for Justin Fields to improve on Chicago Bears Mandatory Credit: Jon Durr-USA TODAY Sports /
Chicago Bears – Credit: Steve Roberts-USA TODAY Sports /
3. Working through reads
As noted in the past slide, things have to start slowing down between plays. Once Fields starts to get things calm before the snap and in the huddle, it will be easier to navigate the post-snap diagnosis. Right now, it is just way too fast for him.
You can watch Fields essentially thinking too fast in the play below as he got through his reads. Watch his head as he scrolls through each read and starts to drift in the pocket while doing so.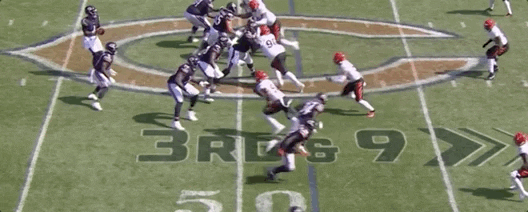 He looks uncomfortable and unsure of what he is seeing, and he eventually panics and checks the ball down to what was an open player.
Fields will be able to step up into this pocket, towards his right, and set up a passing lane fr yards after the catch for his check down when things start to slow down. Now, he was trying to make sure he was correct in what he was seeing.
Fields almost worked through his reads too fast here, but on other occasions, he was holding onto one player and forgetting to move on to his next. As noted, this is all about the mental execution, and it all comes back to slowing things down.