3 plays where Justin Fields made rookie mistakes in Chicago Bears debut Chicago Bears (Photo by Jonathan Daniel/Getty Images) /
CLEVELAND, OHIO – SEP. (Photo by Emilee Chinn/Getty Images) /
Play 3, First and 10, Chicago Bears 44-yard line
This is not a complicated read or staring down a target, it is much easier. This is pitch and catch. Darnell Mooney runs a short curl. He is open, and Fields sees him as his first read. Fields just sailed the ball over his head.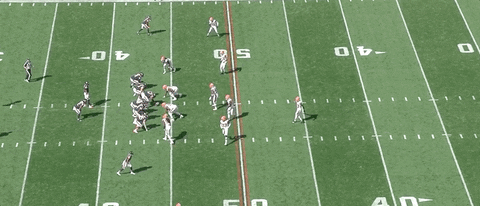 To be fair, he was overwhelmed, was getting swarmed, and was clearly having issues getting through his reads. So, nothing was coming out quick and easy for him, nor was this release. Still, this is a layup and he has to hit it.
Again, it is not all on him, but he has the lowest Completion Percent Over Expectation (CPOE) in the NFL. This takes into account separation, and pass rush, and other NextGen factors to give an expected completion rate. Fields are completing 24% fewer passes than he is expected to. With PFF taking out throwaways and adjusting his completion rate, that number drops to 18.5% below expectation, but that still would be the worst in the NFL without adjusting for others.
Matt Nagy can make things easier for him, but he stared down a read that could have been a touchdown and turned it into a third down. He missed two passes on first down that could have set up second and short, if not other first downs. Those plays put them in second and long, which is tough for any quarterbacks. The Bears effectively had 10 drives, and three big plays hurt drives based on rookie mistakes. These are going to be the growing pains that come a rookie coming from a college offense.