Film Review: This Chicago Bears player is earning more snaps Chicago Bears (Photo by Ethan Miller/Getty Images) /
If you had told me that I would be talking about the breakout sixth year for DeAndre Houston-Carson before the season I would have at least considered it after we made it through 2020, but still would think it's a bit outlandish. But we are at the point where his play must be talked about. Houston-Carson has been with the Chicago Bears since 2016, back when Sean Desai was the quality control coach. He did not make his first start until 2021 when Desai moved from safeties coach to defensive coordinator.
Still, his play had been increasing, and even before he started and played every snap against the Bucs, DHC was well over his career-high in defensive snaps played. He played 16 snaps week two, which is as many snaps as his 2016 and 2019 seasons combined, and the same number of snaps he played in 2017.
Still, before his first start, his snaps from week two to week six went 15, 13, 17, 34. The team was working in DHC as a third safety and was showing that look far more with Desai than they ever have, even with Fangio.
DHC had relished the role as the third safety, and on Sunday made even more splash during his first start. Considering this is not a one-game blip, it is time to pay attention. What also is impressive is that DHC has done it in all phases.
DeAndre Houston excels for Chicago Bears in coverage
Below we see a red zone snap against Cameron Brate. He is at the top waiting for Brate near the goal line. Brate breaks inside and the throw is there, but DHC closes fast and knocks the ball away at the catch point.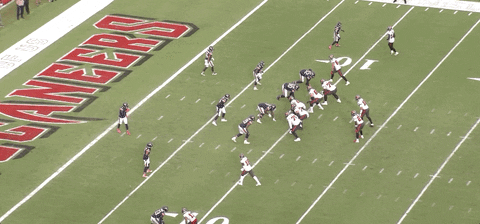 This play is even better. He is matched up against Mike Evans in the slot, watch him standing around the 33-yard line. Evans does a double move where he stops and goes. Watch DHC stop with him and shut down any lane in front of him.
It appears as first as though Evans has him beat. Then, you see the recovery speed. The throw is a bit behind Evans, but it helped that the angle DHC took forced Brady to throw the ball high and to the sidelines. Houston-Carson then broke hard and was able to knock the ball away at the last moment once again. Fans may not believe this, but according to PFF, DHC ranks third in the NFL in coverage grade along with Kevin Byard, and Jordan Poyer. Those are some of the better names in the game.
DeAndre Houston-Carson helping Chicago Bears against the run
Here we see a snap where Houston-Carson is the third safety and technically a slot for this play. He sees the motion, which reveals that he is in man coverage. The motion bumps his man over one to the running back. Now, he jumps right in and fills against the run.
This is a full complimentary play because it shows his awareness and understanding in the defense, and he also recognizes the play at the snap and gets into the backfield with ease to blow the play up. PFF has him 13th in run defense grade, and 11th in stop rate against the run in the past four games.
DeAndre Houston-Carson flashes all-around potential with pass rush
This play is so underrated, but it is the lead cause for a Khalil Mack sack. Mack is over the tackle, and DHC is showing blitz, so the running back, 32, is ready to take him on. Now, watch Houston-Carson on the snap. He starts to head to the back and immediately rams himself into the tackle. Talk about taking one for the team.
DHC takes him and the tackle out of the play and gets Mack matched up on a running back for an easy sack against Jared Goff. You need team players to pull those plays off, and that is what a five-year special teams asset can do as a pass rusher.
Below we see the value of his pass-rush ability on tape. Now, he is showing blitz against the Packers, and the team saw on tape what he did. This time he shows blitz and backs off.
The Bears still stunt, though and Mack still gets home. This could be because they were expecting it to come from a different direction and player.

All of a sudden the Bears' best defensive back in the past month has been DeAndre Houston-Carson. This has not been a bad thing, either. While fans will clamor that he should send Eddie Jackson to the bench, the reality is that while Jackson makes more and is expected to do more, Tashaun Gipson has been worse this season from a straight-up perspective.
Gipson has also been injured throughout the year, and after coming back from something, missed a game again. The Bears may want to try switching their roles at times. When they need three safeties they can still let DHC flash his versatility. He has been an asset in every way.
Still, someone who has been an asset in every way may need to keep playing over the injured and struggling veteran who may be over the hill football age-wise. When Gipson gets healthy they should ease him by starting DHC and riding the hot hand until he shows reason not to trust him.