Chicago Bears: Takeaways from yesterday's introductory press conference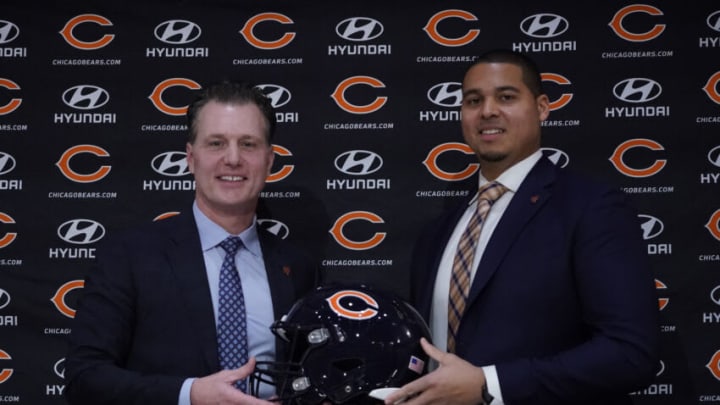 Chicago Bears - Credit: David Banks-USA TODAY Sports /
Chicago Bears – Credit: David Banks-USA TODAY Sports /
Matt Eberflus made it pretty clear what the Chicago Bears will be built on
One of my favorite scenes from Remember the Titans is Coach Herman Boone's first team meeting in the gym. Petey Jones has one of the biggest smiles and has to answer if football is still fun after getting interrogated by Boone. "Make up your mind. Think since you're thinking. Go on, think. Is it fun?
No, sir.
– No?
Absolutely not?
Zero fun, sir.
Eberflus was quick and to the point. The Bears are going to play fast and physically, and have an attitude of energy, passion, and intensity. And the best part of it all you may ask? Eberflus goes on to add "my piece of advice for the players is to get your track shoes on because we are running." I cannot wait for Day 1 of practice at Halas Hall.
This was not a presser that contained a lot of X's and O's talk or the growing use of analytics. It was old school. Eberflus is going to be a high-energy coach while getting on his players for the little things. The Green Bay Packers' special teams fell apart in their own stadium in the playoff this season. The attention to detail matters on every play of a football game because a blocked XP in the first half could be all the difference when the clock strikes zero at the final whistle.
In terms of his responsibilities, Eberflus made it very clear that his coordinators will handle the majority of the responsibilities and call the offense and defense respectively. The continuous questions with the previous coaching staff of "who's calling plays this week" was not the way to run an offense or a football team. It is quite clear that Eberflus wants to be the overseer.