Chicago Bears: Out with the old and in with the new (free agency)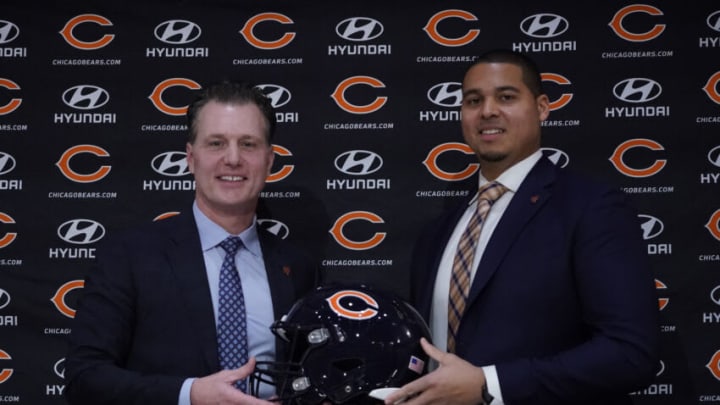 Chicago Bears - Credit: David Banks-USA TODAY Sports /
The Chicago Bears and Matt Eberflus seem to be keying in on the trend that understanding routes and the receivers' duties are the keys to unlocking a passing game. Eberflus and his new OC might be new to the job, but Eberflus shows that he has a great game plan to open the Chicago Bears' most important player hence how Eberflus won the job over experienced coaches of Jim Caldwell and Dan Quinn.
Matt Eberflus just hired another coaching teammate Alan Williams as the defensive coordinator. Let us get off topic again. To me, Chicago Bears fans freaking out about not hiring an offensive guy is silly. Did I want an offensive guy? Yes. However, when any coach becomes a head coach to another team, they lose out on valuable pieces that some fans don't seem to understand.
How good will the Packers be on offense next season (or the following) without their OC and passing game coordinator? How good will the Indianapolis Colts be without the defensive staff that ranked them tenth-ish on defense the past three seasons?
Alright, back on track. Alan Williams will not only be running plays, but according to Matt Eberflus, Williams will also be calling the defensive plays (we will see). The thought is the Chicago Bears will go back to running a base 4-3 true one gap-styled defense. However, most teams only run their base defense roughly 30% of the time.
The Chicago Bears having fewer players on the roster works into Matt Eberflus' advantage —something I stressed about the Chicago Bears cap situation. Big-name free agents, to me, are not the way to go in free agency.
The Bears' offense and defense should benefit from having fewer players on both sides, so they aren't locked into players that don't fit the scheme. Side note, I still wouldn't trade Khalil Mack or Robert Quinn. Eberflus, according to Greg Gabriel, has a bit of a twist with his Tampa-2 defense.
Eberflus values his defensive tackle (3-technique), weakside linebacker, and slot cornerback. Mike Tomlin (another Tony Dungy coach) values edge, weakside linebacker, and safety. Tomlin's philosophy could be due to the nature of his 3-4 Tampa-2 defense. Either way, the Chicago Bears' limited roster allows Matt Eberflus to have a clean slate of players with a solid core to build his offense and defense according to his principles.