3 Chicago Bears trade packages for Amari Cooper instead of DK Metcalf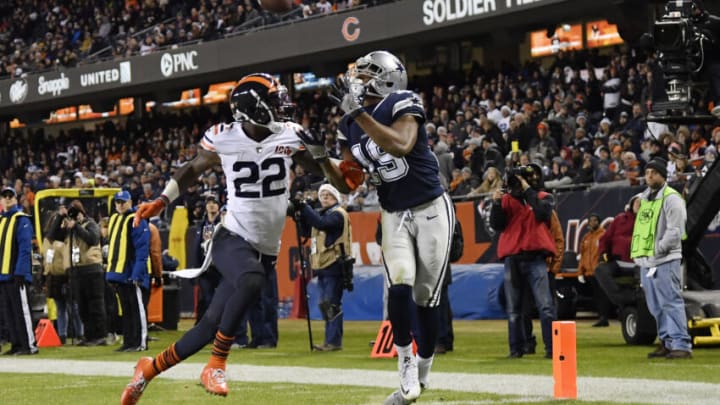 Chicago Bears - Mandatory Credit: Quinn Harris-USA TODAY Sports /
Chicago Bears (Photo by Abbie Parr/Getty Images) /
There has been plenty of talk about how the Chicago Bears should look to make a trade for DK Metcalf if the Seattle Seahawks are looking to start a complete firesale. Yesterday, the team not only traded Russell Wilson to the Denver Broncos, but they also released eight-time Pro-Bowl linebacker, Bobby Wagner. Seattle aside for a minute, I think a trade for Amari Cooper must also be on the table.
What is interesting about a trade for DK Metcalf is that he is only 24 years old. In fact, he's not much older than some of the 2022 NFL Draft prospects hoping to enter the league later this year. Calvin Austin, III for example is almost 23 years old. Bo Melton who saw his draft stock climb at the NFL Combine is almost 23 years old. There are even two lesser-known guys in Dontario Drummond and Britain Covey (neither will likely be drafted) who are actually older than DK Metcalf.
Would you rather the Chicago Bears trade for Amari Cooper or DK Metcalf?
Now, Amari Cooper on the other hand is nearly 28 years old. He is also due to make $20 million dollars in base salary this year — something the Chicago Bears cannot and should not want to afford. Some might say, for that you might as well try to bring back Allen Robinson. The difference here is that Cooper is a better wide receiver than Robinson — especially when it comes to separation.
DK Metcalf on the other hand seems to be able to get in the end zone more than both of them. The problem with Metcalf seems to be his ability to limit his drops and he only has one year of receiving yards efficiency (2020). Metcalf was a Pro Bowler that year and voted as a Second-Team All-Pro. Amari Cooper has been in the league four years longer than DK Metcalf, but he also has been voted to four Pro Bowls. His numbers were down slightly this year but he's also part of a stacked Dallas wide receiver group.
If the Chicago Bears were to land either Amari Cooper or DK Metcalf this offseason, the wide receiver group would instantly improve. The key here is that the Cowboys were originally rumored to release Amari Cooper, but now the team is looking to obtain draft capital for the 2015 first-round draft pick that cost them a first-rounder in 2019.