5 Chicago Bears under the most pressure to perform in 2022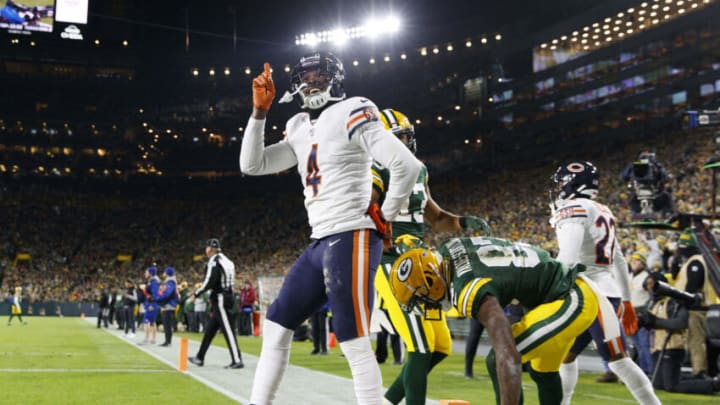 Chicago Bears - Credit: Jeff Hanisch-USA TODAY Sports /
Chicago Bears – Credit: Jon Durr-USA TODAY Sports /
Chicago Bears Player No. 1: Justin Fields
This one is pretty easy to understand. Quarterback is the most important position in the sport, and with great power comes great responsibility. This is even more the case with Justin Fields. Regardless of who is ultimately to blame for the lack of offensive weapons on the roster, Fields doesn't have much to work with. It will ultimately be up to him to elevate the guys around him because there isn't enough talent on the line and skill positions to elevate him.
It seemed like Fields was turning a corner right before he injured his ribs against Baltimore. We often see the most growth in rookie quarterbacks in their final 6-7 games of their season. The perception of Zach Wilson and Trevor Lawrence's rookie seasons changed dramatically based on how they finished their years. Due to multiple injuries and COVID-19, Fields missed much of this time, which made it hard for him to get what he needed out of his rookie year.
Bears fans were thrilled that Fields fell out of the top ten in the 2021 draft. But we are getting past the honeymoon stage. If Fields doesn't take a jump in year two, not only will it make it nearly impossible for the Bears to contend, but it will also be another lost year on his rookie deal.
Fields only has so much time to prove he is a franchise quarterback, and the longer it takes him to prove it, the more the Bears will start looking into other options. The talent and ability are there; it's now just a matter of having it translate to his production. This year isn't necessarily a make-or-break, but showing steady growth from his rookie season would do a lot for the organization's confidence in Fields going forward.