This Chicago Bears player is poised for big impact on defense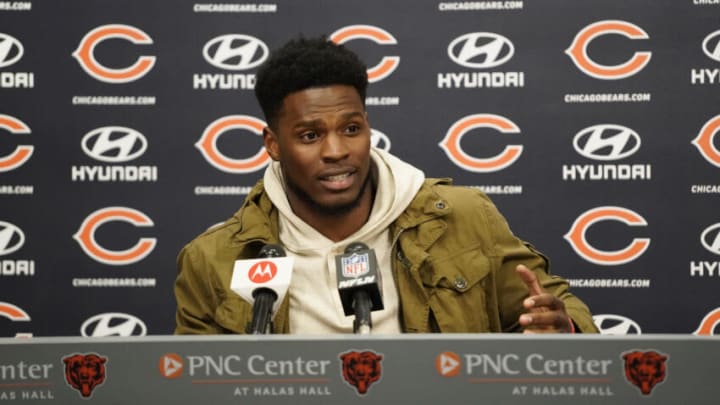 Chicago Bears - Credit: David Banks-USA TODAY Sports /
When the Chicago Bears signed Nicholas Morrow there was not much reaction. To be fair, it is hard to say what to expect from Morrow considering he missed all of the 2021 season with a foot injury. Still, before his 2021 season turned him into an unknown free agent he was ascending up the Raiders' defense and was becoming a trusted starter.
The Bears are hoping to get the same results or see him progress even with the year off. He is essentially locked into a starting job considering there is little experienced competition behind him and Roquan Smith.
Still, it appears as though the Bears' defense has even more in-store for Morrow. While the OTAs are a time to test things out that may not stick, the Bears were testing out using Nicholas Morrow as a play-caller beside Roquan Smith.
Considering Smith is the Bears' three-down linebacker most expected him to be the green dot player. Still, the team is giving Morrow that experience now.
This should be looked at as less of a slight to Smith and more of a nod to Morrow. When the Indianapolis Colts had Darius Leonard and Anthony Walker as their linebackers they would shuffle who would wear the green dot between the two.
When Walker would wear the green dot the Colts felt as though Leonard was able to get the calls relayed to him and he would play faster, while Walker would stay grounded. This could be what they are looking for from Roquan Smith, who has been consistent but does not have the ball production of Leonard.
Of course, to do this you need a partner that the team can trust. Walker wound up signing with the Browns a year later and called plays in the middle of their defense as well. The Bears want to see how much they can put on their plate of Morrow.
If Morrow is savvy enough to be a play-caller on defense, like Walker was, the team should use this to their advantage as they did with Darius Leonard. This will be an interesting event to keep an eye on, as it speaks to their faith in Nicholas Morrow.