5 surprise players who could make a big impact for the Chicago Bears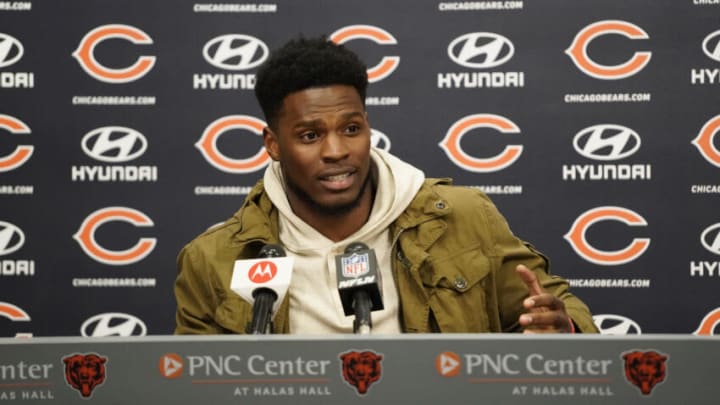 Chicago Bears - Credit: David Banks-USA TODAY Sports /
The Chicago Bears have seen a huge amount of turnover to the roster this offseason. Ryan Poles did not take long to put his stamp on the roster left to him by Ryan Pace. Poles not only traded away Khalil Mack, but he also made plenty of necessary roster cuts that included Tarik Cohen (sad situation there), Danny Trevathan, Eddie Goldman and more. Now, when we look at the roster, there is a huge influx of youth.
Speaking of rookies, I want to point out that if you are expecting to see names like Jaquan Brisker, Kyler Gordon, or Velus Jones, Jr, keep scrolling because that's not who is making this list. Rookies are eligible to be considered surprise impact players, but I just cannot look at the roster and think that three guys who were projected to start or at least see a starting equivalent of snap shares qualify as surprises. Brisker and Gordon are slotted in as starting options on defense while Velus Jones should be no worse than the WR3 in this group.
Instead, these players are guys you might not necessarily think of when you think about the Chicago Bears, but they have a strong possibility of surprising some people with their production.
Chicago Bears Surprise Impact Player No. 1: Nicholas Morrow, LB
It still appears that Nicholas Morrow will start the season as the Chicago Bears' middle linebacker. This leaves the weakside linebacker position for Roquan Smith. For those of you who are unfamiliar, the weakside spot is the same as Darius Leonard plays for the Indianapolis Colts. Slotting Smith into that spot just makes sense.
Morrow missed all of 2021 with an ankle injury. He was cleared to play in the Raiders' losing playoff game last season but didn't see enough reps leading up to the game to justify playing him. Morrow was expected to be in the mix for one of the starting linebacker spots last year, but that did not work out. He started 11 games in 2020 though and had a bit of a breakout campaign.
Morrow finished with 78 combined (62 solos) tackles. He finished with eight tackles for loss, nine passes defensed and an interception. He also had a forced fumble, fumble recovery and three sacks on the year. His 2019 stats weren't bad either. He started eight games that year, and finished with 73 combined (53 solos) tackles, one interception and four passes defensed.
It is telling that Matt Eberflus and the Chicago Bears did not sign guys he's familiar with like Anthony Hitchens even though Hitchens came in for a visit. Nicholas Morrow could surprise fans this season.