Chicago Bears are patiently awaiting this draft prospect's decision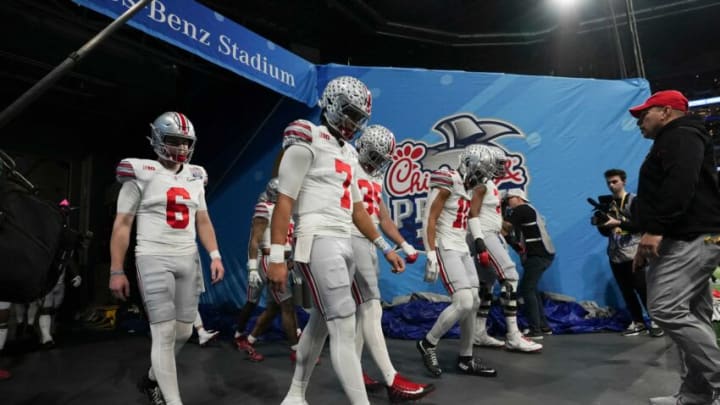 Chicago Bears - Syndication: The Columbus Dispatch /
We are one day away from the deadline for NCAA underclassmen to declare for the 2023 NFL Draft. As the Chicago Bears hold the top pick in the draft, the team and scouting staff await to see what one prospect decides to do. In fact, this one prospect can drastically change the landscape of the 2023 NFL Draft. This year, there are three names consistently mentioned at the quarterback position — Bryce Young, C.J. Stroud and Will Levis.
Most draft boards have Bryce Young and C.J. Stroud as the top two options, but if you follow the NFL Draft cycle, then you know things can change between now and April. It also seems that Bryce Young is seen as the top prospect while C.J. Stroud is the second, but some analysts do have these two flipped. Many look at Bryce Young and get concerned about his size. Pro Football Reference has his measurements listed as 6'0″ and 194 pounds, but I'd be surprised if that's accurate. He seems to be 5'11" at best and I'd be concerned he's under 190 pounds.
Now, that doesn't mean he doesn't have a chance to be a good player in the NFL. He has all the other tools needed to be great — football acumen, mobility, athleticism, and decent enough arm strength. Can he handle the hits of the NFL on a consistent basis though? This is why some have C.J. Stroud ranked ahead of him.
The first-overall pick could see an increase in value if C.J. Stroud doesn't declare
Stroud has the prototypical size you want in a quarterback but lacks in the mobility department. Stroud is able to get the ball out quickly though and make quick decisions. His performance in the college playoffs was fantastic and he actually showed some escapability that he had not shown in prior games.
Will Levis is similar to Stroud but has even more size to him. Levis has the strongest arm out of the three of them, but his mechanics are not polished. A team may be interested in taking on the task of developing him, but I'm not confident he's viewed as a top-10 pick. At least not with C.J. Stroud in the mix. The problem is that C.J. Stroud has yet to declare for the 2023 NFL Draft. Teams are patiently waiting for his decision. He must make that decision by tomorrow.
This isn't anything new. Even Justin Fields waited until the last minute to declare for the NFL Draft and he didn't have NIL endorsements.
Anyone thinking that the NIL endorsements could be why C.J. Stroud stays at Ohio State is not thinking logically. Stroud is viewed as a top-five pick in this draft class, meaning he'd earn a guaranteed $20+ million signing bonus. That is far and above the amount he's receiving from his NIL deals.
If Stroud doesn't declare, it could force teams to trade up for Bryce Young. This could increase the trade value for the first-overall pick owned by the Chicago Bears. What it probably won't do is allow the Bears to trade down twice as many fans are hoping to see happen. We have a long way to go between now and the 2023 NFL Draft, many factors are going to come into play to change and affect what Ryan Poles and the Chicago Bears are able to do. Buckle up and try to enjoy the bumpy ride.