Will the Chicago Bears follow the Cardinals to St. Louis?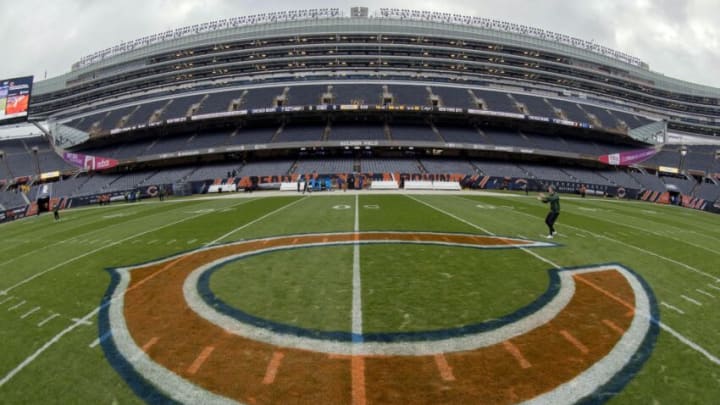 Chicago Bears (Patrick Gorski-USA TODAY Sports) /
The Chicago Bears are still knee-deep in negotiations in an attempt to close the deal for the purchase of the property formerly known as the Arlington International Racecourse. The property consists of more than 300 acres and the initial concepts look somewhat comparable to what Los Angeles did with SoFi Stadium. This project would be more than just a stadium. It would be a complete campus with hotels and retail space. The idea of keeping the Chicago Bears in Soldier Field looks to be fading faster by the minute. However, a new idea popped up today and it's crazy.
Todd Maisch, president of the Illinois Chamber of Commerce told the Chicago Sun Times that other states could be in play if the two sides cannot close on the Arlington Heights property relatively soon.
""I think it needs to happen by the end of this session. If not, you're going to start to have other states make their cases on why the Chicago Bears should be the St. Louis Bears.""
Could the Chicago Bears actually move out of Illinois?
What's funny is that the link to another story in this Fox 2 Now article is "Can you smoke marijuana in public in Missouri?" Clearly, todd Maisch had to be high when he came up with this take, right? The Chicago Cardinals left Chicago for St. Louis prior to moving again to Arizona. St. Louis was the home to the Cardinals from 1960 to 1987. St. Louis was also home to the Rams for over 20 years before they picked up and moved to Los Angeles. Now, St. Louis has been without a team for seven years.
It stinks that St. Louis has seen two teams come and go, but there is literally no way that the McCaskeys are going to move from Chicago, or the Chicagoland area, to move to St. Louis. This sounds like complete nonsense and just Todd Maisch trying to stir up conversation. The writing is already on the wall for Soldier Field no longer being the home of the Chicago Bears. Fans should get ready for them to move to the Arlington Heights location. With the addition of Kevin Warren as President/CEO, I fully expect this project to succeed in a way fans have not seen from the Bears.