Film Review: How Chicago Bears can get Roschon Johnson on the field immediately
Scott Wachter-USA TODAY Sports
The Chicago Bears stuck to their best player available method and decided to draft Roschon Johnson in the fourth round of the 2023 NFL draft. Johnson is a talented player, but now the question will be raised how he fits into the Bears' plans moving forward.
Chicago Bears can get Roschon Johnson the field immediately
The Bears signed D'Onta Foreman and Travis Homer this offseason, so with the addition of Johnson this room looks significantly different. Johnson is just a rookie, so he is not going to get the full workload right away, but there are some easy ways the team can get him in the mix.
One area you have probably heard discussed is the ability that Johnson brings as a pass protector. However, he also brought some value as a run blocker. Considering he was splitting a backfield with Bijan Robinson it was smart to mix him on the field with Robinson rather than taking Robinson out for Johnson.
The result is Johnson being a pseudo-fullback who obviously is much more talented and explosive. Below we can see that Robinson is to the left of the quarterback, and Johnson is on the other side. Roschon Johnson leads the run into the hole, and Robinson follows.
Against Kansas State, they had Roschon Johnson in more of a half-back spot, and they had Bijan Robinson back as the tailback. Once again, Johnson led the way as a blocker, and on this run, you can see that it sprung Robinson to the second level.
What makes this dangerous is the variety of plays that can be run out of this look. Now, Texas has Johnson lined up as the offset fullback. They have a man in motion and then fake a toss to Bijan Robinson. Considering the motion, and the fact that Robinson is so lethal he draws a lot of the defense's attention. Roschon Johnson, who is much better than a fullback is being treated like a fullback because of how often he blocks from this look. That is when Texas sprung in a quick handoff to Johnson and he ripped out into open space.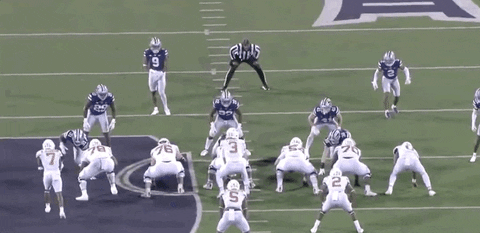 Texas can hand it to Johnson from these looks, and throw it. The attention again shifts to Bijan Robinson running up the gut. At first, it looks like Roschon Johnson will be the lead blocker for Robinson but then he bursts to the flat as a pass catcher. Again, the defense is treating him like a fullback and not giving him enough attention, and he made them pay.
One last play is mainly just for fun but also signifies exactly what Roschon Johnson can do. Ryan Poles noted that Johnson is a former quarterback, and they can do fun things in the backfield with him. When Justin Fields is your quarterback you do not need to get too creative with a mobile player taking the snaps, but Roschon Johnson definitely can handle snaps from the wildcat. Even in the play below he breaks a tackle and gets downhill, which is another reason the team drafted him.
The first names you think of when hearing Roschon Johnson getting drafted is D'Onta Foreman and Travis Homer. He can take snaps away from both. However, not enough talk is being made that he may steal a snap or two from Khari Blasingame.
The fact that he is so willing to block in the run game, but is also much more efficient with the ball in his hands gives the Chicago Bears plenty of creative ways to mix him into the game before throwing him all the way in.