FOCO Releases Chicago Bears Overalls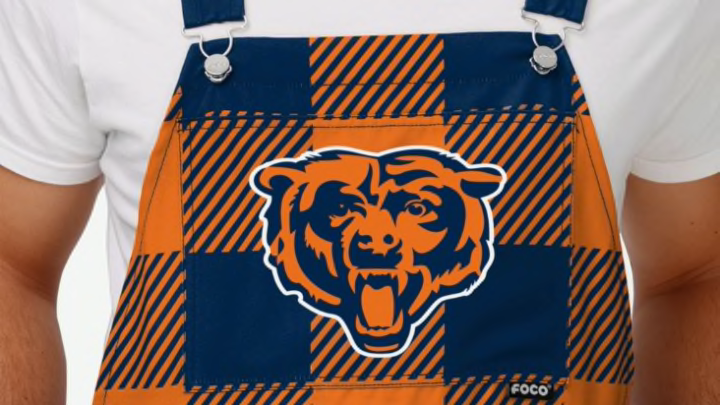 The Chicago Bears have a storied legacy in the NFL, with many legends playing in the orange and blue.
And many fans in the stands rocking those same iconic colors.
As the season now begins, fans are on the lookout for exciting ways to express their loyalty amongst the navy blue and orange. While classic sports apparel like t-shirts and hoodies remains a popular choice, there's a new trend in sports overalls that offers a fresh way to showcase team spirit. For Bears fans, these team-themed overalls are a great choice.
Oh and the players love them, too. Just ask Teven Jenkins.
FOCO /
Where to Buy Bears Overalls?
Discovering top-notch, budget-friendly sports attire can often be a challenge, particularly when considering the conventional avenues for gear. However, there's an excellent solution in FOCO. FOCO presents officially licensed sports merchandise that are reasonably priced.
See FOCO's collection of overalls by clicking the link below, and don't miss the chance to check out the new Chicago Bears overalls, showcasing the iconic navy blue and orange colors.
Buy Bears Overalls at FOCO - $70.
How to Style Bears Overalls
Creating a fashionable look with Chicago Bears overalls is not a hard task. As the season starts with warmer weather, you can easily match them with a Bears-themed or color-coordinated t-shirt underneath.
When the chilly months roll in later in the season, simply add a few extra layers or go for a snug navy blue, black, white, or orange hoodie underneath for warmth. For the most dedicated Bears fans, layering with more Chicago Bears gear is a fantastic way to make a bold statement and proudly display your team spirit as well.
FOCO /
Does FOCO Make Bears Overalls for Men and Women?
The Chicago Bears' navy blue and orange overalls are suitable for both men and women. They serve both as excellent choices for group attire during game day outings, and are even a great couples outfit at game day parties. These overalls offer a fun way for anyone to show their support for the Bears as they aim to have a winning season and possibly playoff run this year.
This post contains affiliate links, where we may receive a percentage of any sale made from the links on this page. Prices and availability are accurate as of the time of publication.