Bears Sign Offensive Tackle to Practice Squad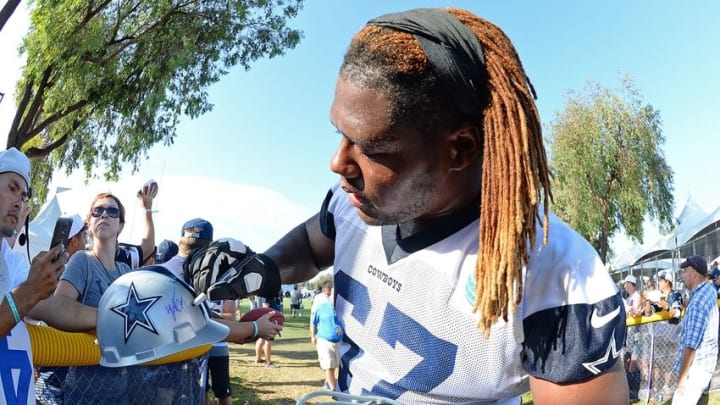 Jayne Kamin-Oncea-USA TODAY Sports /
The Bears completed their 10-payer practice squad this week by signing offensive tackle Laurence Gibson originally from Virginia Tech. The Bears have a lot of positions where they could use depth and I might have preferred a defensive back with their last practice squad spot, but offensive tackle is definitely a position of need as well.
Gibson is a player I've been interested in since the 2015 draft. I had him graded as a mid day three pick, due to his exceptionally long arms (35 1/8″), quick feet (4.56 20-yd shuttle), and the athleticism to finish in the top five among o-linemen in four of the six combine events. The reason Gibson dropped to the 7th round was that he played his senior season at 275 pounds. That's obviously too thin to be a left tackle in the NFL, but as of this preseason Gibson had bulked up to 315 pounds.
At 6'6, 315 with unusually long arms and very quick feet, Gibson's profile is very similar to Chalres Leno Jr's coming out of college. Leno Jr was also an underweight left tackle who won using length, quickness, and technique and Gibson has similar potential. He was drafted by the Cowboys, who have no need for a left tackle anytime soon, and was relegated to their practice squad. Gibson was a smart signing by the Bears and he could develop into a good fit for Bears OC Dowell Loggains zone blocking scheme.
With another year of adding weight and strength, plus learning the Bears blocking scheme, Gibson could be a valuable reserve next year and maybe even push for Leno Jr's job at left tackle eventually. It's a long shot, but the physical tools are there for Gibson to be a useful NFL tackle in the right system. The Bears don't have any other young tackles with starter potential, unless you like Jason Weaver more than I do, so signing Gibson could end up being a smart move.