Fair or Foul: Jordan Howard receiving stats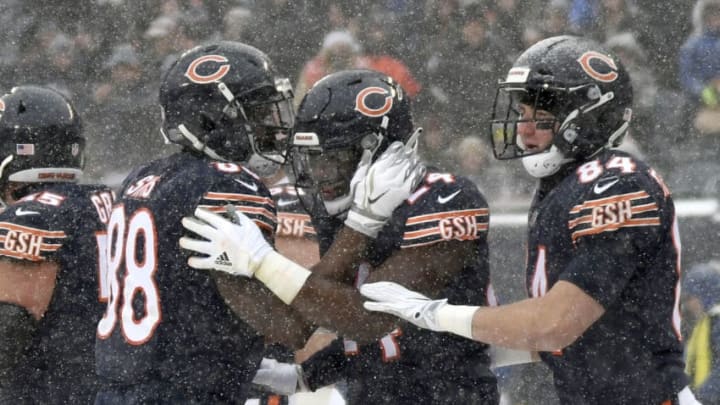 CHICAGO, IL - DECEMBER 24: (L-R) Mitch Unrein #98, Jordan Howard #24 and Ben Braunecker #84 of the Chicago Bears celebrate after Howard scored against the Cleveland Browns in the first quarter at Soldier Field on December 24, 2017 in Chicago, Illinois. (Photo by David Banks/Getty Images) /
What would be a good baseline of pass catching stats for Jordan Howard
We all know the drama that has surrounded Jordan Howard and the Chicago Bears this offseason. We all know that any doubts surrounding Howard and his future with the team stem from his inability to be a productive pass-catching option.
The Chicago Bears have been working with Howard this offseason on his pass catching ability. They are trying to work on his deficiency rather than work around it. However, Mike Clay, who does the fantasy projections at ESPN.com is not buying that Howard will be a productive member of the passing game.
In his original batch of rankings, he has Howard catching 25 of 33 targets. Clay has him turning that into 197 yards and one touchdown. Is that a fair or foul stat line for Howard?
Past History
The 2016 season, Howard's rookie year is when the narrative grew wings of his inability in the receiving game. He was targeted 50 times and caught 29 passes. The Bears idea moving forward was just to cut out his pass-catching opportunities. He was targeted just 32 times in 2017 and caught 23 passes. He turned that into 125 yards.
So, Clay sees Howard with one more target, two more catches and about 72 more yards in this new offense. The increase in yard per catch feels about right. The question is the targets and receptions.
2017
The sample size was much further reduced but the catch rate saw a huge increase from 2016 to 2017. With just nine incompletions, a better catch rate in year three would get him to the point where he is respected.
Another idea is that the passes may be easier to haul in in 2017. This is not to take the issue off of Howard. He struggles to catch passes. Note the play below.
However, the placement of some passes made what could have been easy receptions turned into tougher passes. The play below is on Howard. He has to catch that pass. However, a slightly better pass makes it a lot easier on a poor pass catcher who now has turned his body around. He had two other drops where he had to turn his body around
On top of that, 4 of his 9 incompletions were completely uncatchable. The play below is not a Jordan Howard issue.
Fair or Foul
So yes, the weakness of Jordan Howard is pass catching. However, it is also fair to mention that while it is still a weakness, he did improve on it from his first NFL season to his second. On top of that, he should have a more consistent quarterback, in a more consistent offense that should give him easier opportunities to catch the football.
Next: Fair or Foul: 7 TDs for Jordan Howard
He may not make the diving catch or even the catch where he has to turn his body or adjust his stride length. However, he can be productive enough in the passing game next season to see another step forward.
It has been a theme with Howard's stat line that many are shying away while I am interested in what he can do. I think Matt Nagy may trust Jordan Howard with more targets, and he could be rewarded as Howard cashes in those easier receptions.