Chicago Bears 2020 roster ranking: 60-56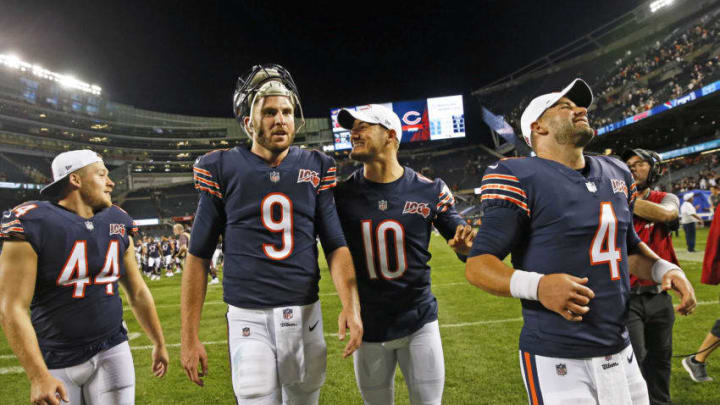 (Photo by Nuccio DiNuzzo/Getty Images) /
Who are the top 60 Chicago Bears on the 2020 roster?
We have been going down the Chicago Bears roster, finding the top players from 90 down to number one. So far, we have ranked numbers 90-61. We are starting to get into the players that fans know, and players who may make the roster. If not, they are in line for practice squad play.
With that in mind, who are the players ranked 60-56 on the Chicago Bears roster? We are listing them based on their value, and how much impact the Bears would need from them in 2020 only.
60. Tyler Bray
2018 Rank:  64
Tyler Bray is a tough one to rank. He is almost solely here because he is a master of the Matt Nagy offense. He will likely be a quarterback coach for Nagy one day. However, if Trubisky or Nick Foles got hurt, the Bears would be looking for a backup quarterback, more than expecting Bray to jump up the depth chart. He will almost certainly have no on-field impact, although he somehow will be more impactful than 30 players currently signed.
59. Stephen Denmark
A considerable step forward, Stephen Denmark would be helpful; however, it is unexpected. The Bears added a lot of depth at cornerback, and where the roster stands right now, he is on pace to be a practice squad candidate.
The Bears usually give these players two years before they really expect them to make an impact Bryce Callahan, Roy Robertson-Harris, and even Kevin Toliver, Ryan Nall, and Joel Iyiegbuniwe are in their most significant roles this year in year three. 2021 is the year to look for Denmark.
58. Jason Spriggs
Jason Spriggs was a Day Two pick for the Green Bay Packers, but he never really found his way to being a possible starter. Spriggs is a player with the pedigree that you take a swing on at the minimum, but cannot expect anything serious from him. Still, when looking at players behind Bobby Massie and Charles Leno, he is going to compete to be the third tackle.
57. Lachavious Simmons
The final draft pick in the 2020 draft class is right outside the top 50. Not many knew of Simmons pre-draft, and he was expected to be a UDFA. However, the Bears committed to him with a draft pick, showing they are interested. However, he is expected to play at guard and is in a big group of less than thrilling names who find a chance to start.
56. Arlington Hambright
Arlington Hambright is a tackle from Colorado, but the Chicago Bears are expected to move him to guard. Like Simmons, he was not well known pre-draft, and like Simmons, he was drafted late to take a shot on to compete at guard. Hambright beats out Simmons by one slot due to draft slot, but the two will both get fair chances to earn their stripes.