Chicago Bears: With their second loss in two weeks, is it time to panic?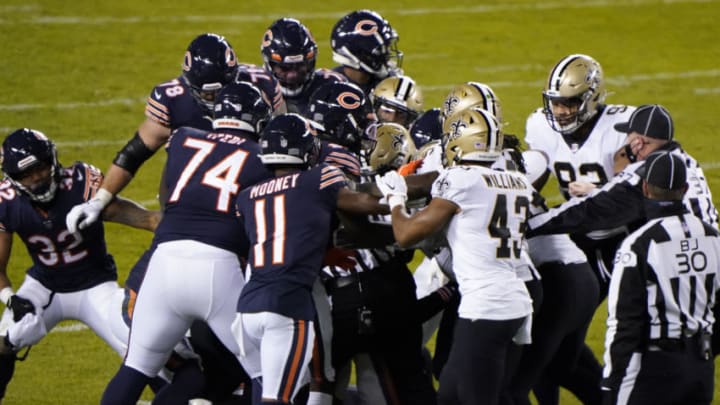 Chicago Bears - Credit: Mike Dinovo-USA TODAY Sports /
Chicago Bears – Credit: Mike Dinovo-USA TODAY Sports /
What happened with Javon Wims?
The Bears took two losses yesterday. One is from the Saints, and the other from the brawl that occurred. Chicago Bears receiver Javon Wims got into it with Saints defender Chauncey Gardener-Johnson.
Gardner- Johnson ripped Wims mouthpiece off his helmet, but that might not have been the start to it all. Although it has not yet been confirmed, Wims claimed Gardner-Johnson spit on him. I'm not sticking up for Wims, but spitting on someone is unacceptable. Both players should be fined.
If the Saints defender did spit on Wims, why wasn't he ejected? You would think that would be a given, especially during COVID.
Earlier this season, Gardner-Johnson got into a fight with Saints star receiver, Michael Thomas. Thomas allegedly punched Gardner-Johnson which caused the Saints to suspend the receiver.
Gardner Johnson was also one of the players mocking Tarik Cohen's height last season. Obviously, something like that is just petty, but it shows Gardner-Johnson's true character. Wims should have never done what he did, but the NFL needs to look into Chauncey Gardner-Johnson.