Chicago Bears Film Review: Where was Khalil Mack?
Chicago Bears (Photo by Dylan Buell/Getty Images) /
There is no doubt that the Chicago Bears' secondary is much more concerning than their pass rush. However, the two go hand-in-hand, and it has been stated that if the Bears were leading the league in pressure rate that their back end likely would not have been exposed as badly as it was.
This is concerning mainly because the Bears invested so much more in their front their secondary. You can blame Eddie Jackson, but between Akiem Hicks, Robert Quinn, and Khalil Mack, the Bears have a lot of money here.
To be fair, Hicks was dominant, and even Robert Quinn had a better game than his 2020 version. However, the big issue was Mack. Mack had a quiet game, registering just one pressure, and one tackle per PFF.
With that in mind, I reviewed the tape to see where exactly Mack went in this game.
Chicago Bears Pass Rushing Opportunities
It gets annoying when you have to say it every week that Mack does not have a huge game, but the offense does always cater to him. Mack rushed the passer 25 times on Sunday, but four of those were screens.
On top of that, there were five passes where the Rams executed a play-action or bootleg that helped take Mack out of the play. Only twice did Mack get a serious double team from a tight end or extra blocker, and lastly I charted seven passes in which the pass just came out so quick that Mack could not do much.
The play below is an example. Stafford is in shotgun, he takes two steps back and the ball is gone. No one is getting to a QB releasing it that quick.
Considering the scheme, quarterback, and situations Mack had 19 of his 25 pass rush chances wiped out. PFF charted Mack with 10 pass rush chances, and if I had to guess, they added two double teams, but also two rollouts that I gave Mack no chance, but Stafford did roll out towards Mack, and not away from him. Still, the dropback took Mack out of the play.
With that in mind, below are six chances that PFF, and I believe Mack had a chance to create a sack or pressure. They gave him one pressure from these six chances.
Khalil Mack Play 1
To start we see Mack squaring off with Rob Havenstein. This actually may be the PFF pressure, but I am not sure. Mainly because Stafford was able to check the ball down to Darrell Henderson, who beats Alec Ogletree and picks up a first down.
Mack gets a running start and then is able to get his hands into Havenstein driving him back. Watch the left leg of Havenstein and how big of a step back he takes. Still, for as strong of an initial push Mack brings, Akiem Hicks is just as fast in the backfield. Stafford stands flat-footed for a second, so it was not too fast of a release, but unfortunately, neither Mack nor Hicks can create pressure here.
Khalil Mack Play 2
Mack looks to get Havenstein off balance by stepping hard to the inside then breaking to the outside and attacking his outside shoulder. Once again, we see that Mack is close, and may have been able to draw a hold, but Stafford once again gets rid of the ball at the right time.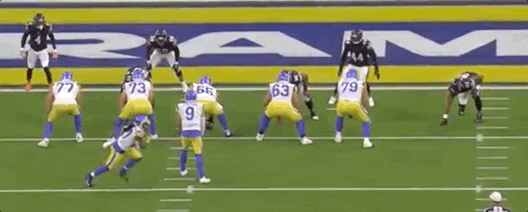 Stafford was able to get to his third read, so it was not a play where you can say the scheme or a quick route disrupted things. Rather, Mack did not attack quite hard enough to either draw that hold or drive Havenstein into the path of Stafford, disrupting his throwing lane.
Khalil Mack Play 3
This is one where Mack wins, and the result here is an incomplete pass. Mack starts outside and stays outside. However, he is able to push the hands of Havenstein away and get beyond his shoulder. Pressure from Robert Quinn helps push Stafford towards, but Stafford feels the pressure and hops up. Still, Now, Akiem Hicks is in the backfield as well, and the ball is incomplete.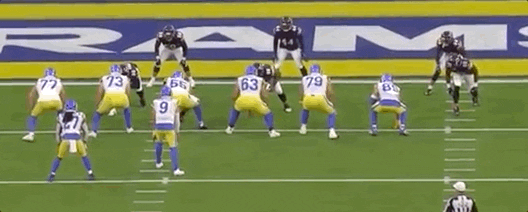 This play could make the case that when all three are on at the same time, Stafford could struggle. It was just bits and pieces, and not a cohesive rush from Hicks, Mack, and Quinn.
Khalil Mack Play 4
This is easily the biggest win for Rob Havenstein when taking on Khalil Mack. While it results in a sack, everyone but Mack was in on it. To be fair, Mack knew he had a blitz to his left, so his job was to contain to the outside. Still, you can see that Havenstein is able to keep his hands down, and even immediately steps in the way of his spinning counter.
Khalil Mack Play 5
In the second half, the Chicago Bears decided to try to move Mack around, and see if they can create a bit. It did not really work well, as shown by this stunt where Mack starts off over the guard.
He looks to stunt to the outside of the tackle and has some success getting to the edge. However, Stafford quickly steps up in the pocket, and this play actually resulted in the Cooper KUpp touchdown. Mack had a long loop outside, and aside from that Stafford had a clean pocket to step into.
Khalil Mack Play 6
Now, we see Mack lined up over the guard and then take him on. The guard gets some help at first, but the tackle bails quickly due to a blitz. Still, with the running start, and taking on a slower interior player you would really like to see Mack dominate this matchup.
Plenty of talented rushers thrive when they get matched up in that spot, and we did not see much push from Mack at all as Stafford stayed clean in the pocket.
Overall
The biggest takeaway is that the combination of Sean McVay studying this defense every year, and knowing Brandon Staley who coached this defense along with Matt Stafford knowing this team well helped. They came in with a game plan to beat this defense and keyed in on Mack. They also keyed in on how weak this secondary was, and Stafford got the ball out quickly.
Still, he also maneuvered the pocket with ease and a feel for the rush around him. Mack was scheme out of plays, and you hear that every week, but there was meat on the bone, and Mack could have turned two or three more of those six plays into winning moments.
That is what he is being paid for, and while the chances are limited, the best players see their one chance and dominate. We did not see that Sunday with Mack.