3 reasons the Chicago Bears should not trade Teven Jenkins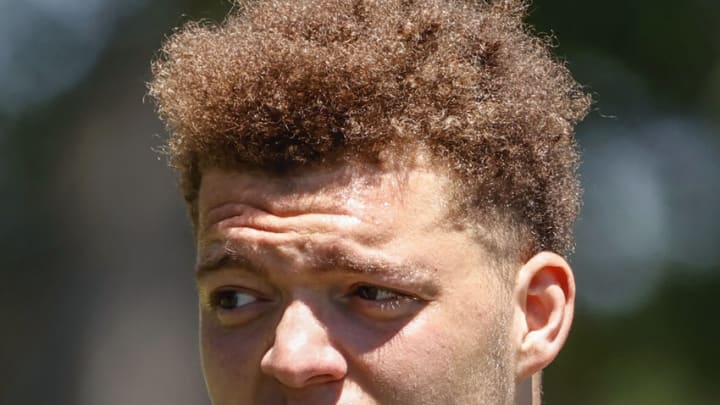 Chicago Bears - Credit: Kamil Krzaczynski-USA TODAY Sports /
This has been a weird season for the Chicago Bears and Teven Jenkins. Jenkins started on the right side to start voluntary minicamp. Then, he was pushed to the backup spot with the last six practices left before training camp. Larry Borom was moved over to the starting right tackle spot and Braxton Jones was moved up as the starting left tackle. Ryan Poles and the Chicago Bears did not like what they have seen obviously and this is why Riley Reiff and Michael Schofield were signed.
It was reported by Matt Eberflus that Teven Jenkins "woke up with something" and this is why he wasn't at practice — although he was seen at Halas Hall. Today, Eberflus told reporters that Jenkins was still dealing with the same thing and he's day-to-day. Well, that wasn't entirely true as reports are now out that Ryan Poles has been fielding calls from other teams regarding a potential trade for Jenkins. We already covered why the Bears should trade Jenkins, but there are reasons why it would be a bad move.
1. The value of a Teven Jenkins trade is likely not enough for the Chicago Bears
Ryan Poles and the new regime have no direct connection to Teven Jenkins prior to taking over the Chicago Bears personnel decisions nearly half a year ago. Ryan Poles was the guy who traded up for Teven Jenkins in 2021 and Poles has no loyalties to keep him.
The problem is that the net return of a Teven Jenkins trade is not likely to be positive. If teams are calling, it's because they smell blood in the water or leaked information was given to them about the Chicago Bears being open to making a trade. The problem with that philosophy is that his trade value is likely to be significantly low.
My best guess is that the Chicago Bears would not see anything better than a sixth-round pick. With Jenkins' back surgery last year and the immaturity rumors now, I don't see them getting anything better. If they can recoup a fourth-rounder somehow, or get a fourth and send back a sixth, then it makes sense. I just don't see it happening.