Did Ryan Poles push Chicago Bears to this decision?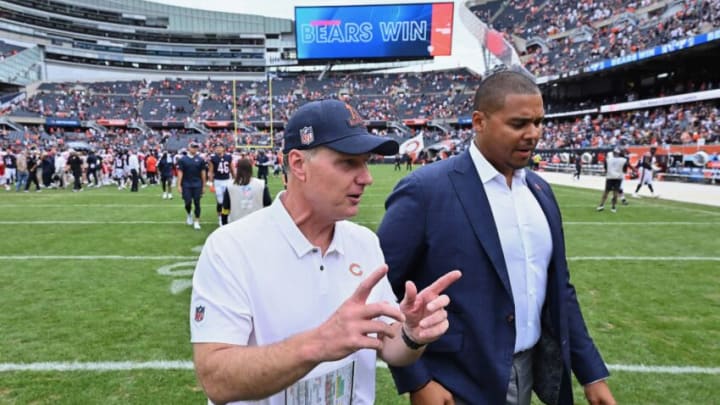 Aug 13, 2022; Chicago, Illinois, USA; Chicago Bears head coach Matt Eberflus, left, and general manager Ryan Poles walk off the field after the Bears defeated the Kansas City Chiefs 19-14 at Soldier Field. Mandatory Credit: Jamie Sabau-USA TODAY Sports /
The Chicago Bears have announced that Justin Fields will miss the regular season finale, and Nathan Peterman will start. The news may not be surprising, but it is different than what we heard right after the game from Matt Eberflus.
Did the Chicago Bears GM push to make Justin Fields inactive?
Eberflus has been consistent in his idea that playing and getting the repetitions is valuable for a team this young. After the game, Eberflus made it sound like he would be starting Justin Fields.
Then, something changed. On Monday, Eberflus was much more wishy-washy, and then on Wednesday they declared him out.
Eberflus mentioned on Monday that he would be talking to Ryan Poles and others to come to an informed decision. This is also something you have not heard from the head coach throughout the season.
The team announced that Justin Fields had a hip strain and that he came in the following day to report it. That is when they decided that it was time to shut down Justin Fields. It does bring up the question of if Fields was healthy, and did not report an injury would he still have played?
Or, did Ryan Poles tell Justin Fields that any small injury he felt was officially a bigger deal and that he was out for the season? Was this a situation when Poles stepped in for Eberflus and made the call?
Based on the wording, and timing, at the very least you can say that Poles was more involved in this decision than he typically has been when it comes to weekly inactives. This does make sense when you figure out what is at stake.
Week 18 is meaningless for more teams than just the Chicago Bears. Minnesota is thinking of resting players as well, and all of a sudden, young and unproven players may be flying around Fields.
Beyond that, the team just got into contention for the number-one pick last week. Lastly, Poles likely saw a team that is falling apart during a blowout against the Lions. All of this combined for him to say that it is smarter to limp to the finish line than it is to push for one last shot at experience.
Ryan Poles has typically stayed far away from any coaching decisions. However, it does look like he at least had some influence in this decision, and for good reason. The job of the GM is to see the big picture while the head coach lives in the here and now. Poles had to tell Eberflus to take a step back, and once he saw the grand scheme, he understood and made the decision.