Grading Chicago Bears GM Ryan Poles decision to trade Robert Quinn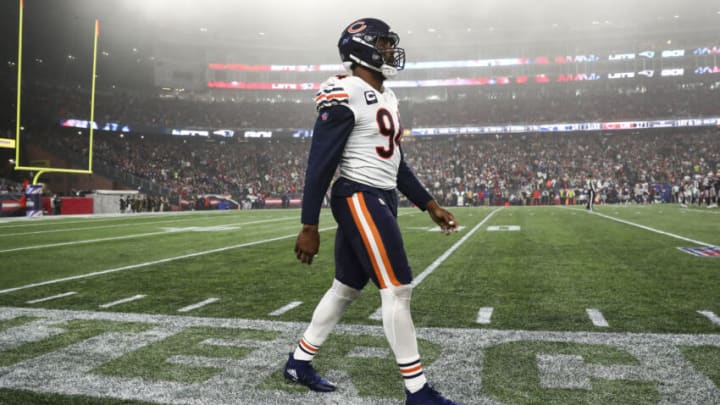 Chicago Bears (Photo by Kevin Sabitus/Getty Images) /
One of the more interesting moves that Chicago Bears new General Manager Ryan Poles made this season was trading Robert Quinn. The timing of the trade came off of the heels of the New England Patriots win, so despite winning the game, Poles still showed the team he was not bought in and traded Quinn.
That obviously ended up being the last time the Chicago Bears won. So, was this a smart decision to make?
Grading Chicago Bears GM Ryan Poles' decision to trade Robert Quinn?
The reality is that the team was going to lose most of their games anyways and it is just a coincidence the streak came with the Quinn trade. Ryan Poles was smart to trade Quinn, and if anything the debate of the trade being bad is that he waited too long.
Poles flirted with a trade during the offseason, and throughout training camp and the regular season, but waited until much closer to the deadline to make the move. Did teams know that he was going to do it, and did he already lose his best offer? The team only got a fourth-round pick.
This is possible, but at the same time, Robert Quinn was never going to fetch that much. Fans want to compare him to Khalil Mack, especially because of his sack production in 2021. However, when you look at the body of work, it is no wonder Mack got much more.
The issue with Quinn is that he has a long track record of running hot and cold. He can come off his career high and then have a career-worst year just like that. He did it again with Chicago, after an awful 2020, he was great in 2021, then awful in 2022 again. Teams knew this coming into the year, this is not the first time this happened with Quinn.
Beyond that, sack production is great, but Mack is so much better against the run, and everyone knew that before Quinn played for this awful run defense.
His age, his contract, and his reputation probably had Poles hearing similar offers in the summer that he heard near the deadline.
In fact, you could argue that Philadelphia was not in the market this summer, but an injury to Derek Barnett had them short an edge rusher, so they became a new team willing to pony up for Robert Quinn.
Teams were not offering more than a fourth-round pick for Quinn, and Ryan Poles likely had the same price the entire time. Once Philadelphia saw the championship window open, and the injury to Barnett they said the price was worth it.
So far, it has not been worth it. Quinn was placed on the IR, and while he was signed for insurance, the team is now looking at him to step up in the playoffs.
In the meantime, the Chicago Bears dumped his salary, and likely got the best compensation they could, regardless of the timing.
 The grade for Robert Quinn Trade: B+