Chicago Bears: 5 Observations heading into Week 16 matchup vs Jaguars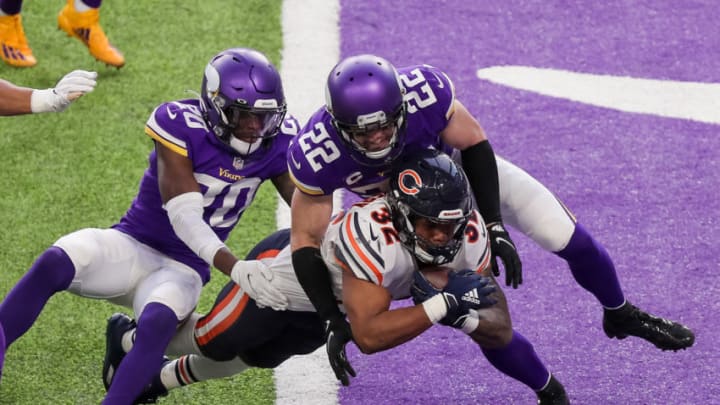 Credit: Brad Rempel-USA TODAY Sports /
Chicago Bears (Photo by Michael Zagaris/San Francisco 49ers/Getty Images) /
Mitch Trubisky is playing the best he has played throughout his career
Mitch Trubisky is getting closer to being the quarterback he wants to be but he ain't there yet. His two biggest flaws betrayed him again in his only interception of this Vikings game. This turnover could have easily resulted in a devastating loss for the Bears.
As I was watching Trubisky walk to the line of scrimmage late in the fourth quarter for this goal-line play, I thought to myself this could be a defining moment for Trubisky. If he could have made a clutch throw for a touchdown at that key moment in the game and key point in this season, perceptions of Mitch Trubisky might really have started to change in a big way.
However, the combination of his bad mechanics and poor decision making ruled this, potentially, re-defining moment. That plus a poor play design led to this interception. Mitch Trubisky instead of reading the defense for his best possible target appears to have been laser-focused on Allen Robinson. This is a reasonable guess given that he has done this very often with the Bears. He made this dumb throw in spite of his receiver running into a crowded place in the endzone.
Then there are his poor mechanics. His feet were too wide apart as he released the ball. This weakened the velocity he needed to deliver a dart. He also had the time to shift his shoulders to the left just enough so he could square up for an accurate throw. He, of course, did not do that. With his feet spread too far apart and attempting a throw to the left of the endzone, while his body was facing mainly toward the middle of the end zone, of course, the ball is going to sail on him.
Sail it did, right into the hands of the Vikings rookie cornerback, Cameron Dantzler. The play call itself was also quite questionable. Each of the Chicago Bears' five pass targets ran the same play — a go route into the endzone. Keep in mind, they started from the six-yard-line and that they only have 10 yards to work with inside the endzone. All of these factors make it one ill-conceived play call which ended in near disaster for the Bears playoff hopes.
This one awful play could have negated all the quality throws Trubisky made earlier in the game. In all of his good throws, like his 24-yard sideline pass to Allen Robinson, Trubisky's mechanics were on point. That is the story of Mitch Trubisky's career — inconsistency.
The value of all of his good throws with good mechanics is negated by most observers because of his bad throws with bad mechanics. This is understandable because many of these costly, mistakes have all too often turned out to be game-defining plays. For example, a bad throw to a wide-open receiver 11 weeks ago, cost him his job.
A very strong argument can be made that if Trubisky does not get replaced by Nick Foles, the Bears are a lock for this year's playoffs. I have often made the case that Mitch Trubisky has it in him to be a quality quarterback. However to close this deal he also needs to fix his obvious flaws before that can happen. With more self-awareness and self-discipline, Mitch Trubisky can be the quarterback he longs to be.